April 29, 2020
Ms. S. Lakshmi Priya – Assistant Professor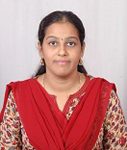 cse
S.Lakshmi Priya, Assistant Professor in the Department of Computer Science and Engineering received her B.E (IT) degree First class with distinction from Bannari Amman Institute of Technology, Sathyamangalam and M.E.(CSE) degree First class with distinction from Sri Venkateswara College of Engineering, Sriperumpudur. She has received University ninth rank in her post graduation degree from Anna University.
She has more than 10 years of teaching experience. She has guided UG and PG projects in areas of Machine Learning and Data Analytics.  She has also attended several faculty development programmes and have conducted workshops. She is a member of IEEE.
She is currently pursuing Ph.D under Anna University in the area of Big data analysis. Her research interests include Big Data Analysis, Machine Learning, Probabilistic models and Deep Learning.