April 29, 2020
Dr. H. Shahul Hamead – Assistant Professor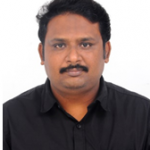 cse
Dr. H. Shahul Hamead, Assistant Professor in the department of computer Science and Engineering, who has been in teaching profession since 2010. He had completed B.Tech degree(CSE) in 2006 and M.Tech degree (Distributed Computing Systems) in 2009 from Pondicherry Engineering College (Pondicherry University). He has received gold medal for the excellence in academics for his M.Tech Degree. He has researched on Green Networks and pursued his Ph.D. from Anna University in 2022. His research interests include Software Defined Networks, Rapid Network prototyping and Queuing Theory.
Project
He has completed a funded project as thePrincipal Investigator titled "Prototyping Green Network Model" funded by SSN Institutions with a budget of Rs. 5,10,000.
Patent
Shahul Hamead, Mirnalinee TT, Asritha M, "An effective frequency provisioning Method for Scalable Devices in NB-IoT platform", Official Journal of the Patent office, Issue Number 17/2019, published on April 2019.
Latest Publication
Shahul Hamead.H, Mirnalinee T.T, Kavipriya D, "Emulation of Burst based adaptive link rates in NetFPGA towards green networking",  Turkish Journal of Electrical Engineering and Computer Sciences, January 2020.
His research profiles can be found at the following websites