April 29, 2020
Dr. B. Bharathi – Associate Professor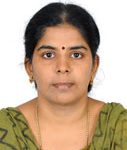 cse
Dr. B. Bharathi
B.E, M.E, Ph.D
Associate Professor
Extn: 379
Dr. B. Bharathi, Associate Professor in the Department of Computer Science and Engineering has more than 21 years of teaching and research experience.
She received her  PhD. in Computer Science (2014) from Anna University, Chennai, M.E.  Computer Science & Engineering (2006) from SSN College of Engineering, Anna University, Chennai, and B.E  Computer Science & Engineering (1998), from Arulmigu Meenakshi Amman College of Engineering, University of Madras.
In her doctoral research, she was working on speaker recognition task. She guided the projects in the areas of isolated and continuous speech recognition, multilingual speech recognition, speech emotion recognition, natural language processing, speech synthesis, speaker verification / identification, machine Translation, discriminative training techniques, and speaker clustering techniques for Under Graduate and Post Graduate students. She is a recognized supervisor of Anna University.  She is currently guiding one research scholar in the area of antispoofing methods for speaker verification.  She is a member of the professional society, Association of Computing Machinery(ACM), IEEE and Life member of Computer Society of India(CSI) 
 She has received "Best Teacher Award" from SSN College of Engineering for the period 2010-2011 & 2012-2013.
Project details
Co-Investigator of externally funded project titled "Speech enabled interactive enquiry system in Tamil". Funded by Tamil Virtual Academy, Project amount Rs. 9.52Lakhs. Duration : 9 months(February 2016) 
Principal Investigator of externally funded project titled "Development of anti-spoofing method for automatic speaker verification system" Under DST – TARE scheme.  Sanctioned Amount: Rs. 18,30,000. Duration : 3 years.  Sanctioned Date: Nov 2018
Principal Investigator of internal faculty funded project titled "Speech enabled interactive voice response system". Sanctioned amount: Rs. 2,10,000.  Duration : 3 years Sanctioned date: Nov. 2017
Conferences/ Workshops/ Seminars Organized
Organized Faculty Development Programme on "Theory of Computation" sponsored by Anna University during May 21 – June 2, 2007. 

Organized National level workshop on " Recent Trends in Text and Speech processing" during August 13-14, 2010.

Organized AICTE sponsored Staff Development Program on "Recent Trends in Machine Learning and Pattern Recognition" during July 2-7. 2012

Organized Faculty Development Training Programme on "Cryptography and network security " approved by Anna University during June 9-16, 2016.

Dr. Chitra Babu, Dr. B. Prabavathy, Dr. B. Bharathi and Dr. Shomona Gracia Jacob organized National Tutorial on "Scalable Deep Learning based Recommender Systems using TensorFlow" as a part of ACM India Celebration of Women in Computing(AICWiC), 11th Sept. 2017.

Organized International Conference on Computational Intelligence in Data Science, Feb 21-23, 2019.  Workshop on "Machine learning and Deep learning" has organized on Feb. 21, 2019
International journals:
B. Bharathi, P. JansiRani, " Efficient Text-Independent Speaker Identification using Optimized Hierarchical Mixture Clustering", in International Journal of Computer Applications, ISSN:0975-887, vol. 44 – No. 4, April 2012.
Ms.B. Bharathi, Mr. C. Arunkumar and Dr. T. Nagarajan, "Improving the performance of speaker and language identification task using unique characteristics of a class" in the International Journal of Speech Technology, Springer Science+Business Media, DOI 10.1007/s10772-012-9167-z, Volume 16, Issue 1 (2013), Page 115-124, Impact Factor: 0.528, Online ISSN 1572-8110 Print ISSN 1381-2416
L. Kavitha and B. Bharathi , "Analysing the Performance of Speaker Verification Task using Different Features" in International Journal of Computer Applications, DOI 10.5120/13144-0550 Volume 75(10) August 2013. ISSN :0975-887
B. Bharathi, Dr. T. Nagarajan, "Speaker verification using speaker-specific-text", in WSEAS Transactions on Signal Processing", E-ISSN: 2224-3488, Vol.10, July 2014, pp. 320-330, Impact factor: 0.914
Nethra K., Bharathi B., "Speaker verification using ant colony optimization", International Journal of Applied Engineering Research, ISSN 0973-4562, pp. 507-512, Vol. 10 No.55 (2015). 
B. Bharathi, S. Kavitha and N. Mariappan, "Real time speech based integrated development environment for C program", Circuits and Systems, Vol.7, pp. 69-82, March 2016, ISSN Print: 2153-1285, E-ISSN: 2153-1293, http://dx.doi.org/10.4236/cs.2016.73008
C. Sivaranjanai and B. Bharathi, "Syllable based continuous speech recognition for Tamil language", International journal of advanced engineering technology, Vol.7, pp.1-4, March 2016, E-ISSN: 0976-3945
S.Kavitha, B.Bharathi, K.MohanaPriya, S.MohanaPriya and V.C. NithusSushmy, "Optimal feature set selection for brain tumor classification using Genetic Algorithm with Support Vector Machine and Decision Tree", Asian Journal of Research in Social Sciences and Humanities, 6(9), September 2016, pp: 660-670, ISSN: 2249-7315.
S. Kavitha, B. Bharathi, P. Sasikala, P. Chandralekha, V. Ashwini, " Modified dual channel PCNN algorithm with hybrid edge enhancement approach for multimodality brain image fusion" International Journal of Biomedical Engineering and Technology, DOI: 10.1504/IJBET.2017.10006801, June, 2018
 B. Bharathi, " Speaker-specific-text based speaker verification system using spectral and phase based features", International Journal of Speech Technology, Springer Science+Business Media,10.1007/s10772-017-9416-2, May 2017, vol.20(3),pp.465-474.
P.Sharath Chander, J.Soundarya, R.Priyadharsini,and B.Bharathi, "Data Analysıs of Natural Language Queryıng Usıng NLP Interface", International Journal of Applied Engineering Research, ISSN 0973-4562 Volume 13, Number 8 , May (2018) pp. 5792-5795, SJR:0.15.
Kavitha srinivasan, Mohanavalli subramaniam and Bharathi bhagavathsingh, published a paper titled as "Optimized bilevel classifier for brain tumor type and grade discrimination using evolutionary fuzzy computing", in Turkish Journal of Electrical Engineering & Computer Sciences, (2019) 27: 1704 – 1718, doi:10.3906/elk-1804-13. IF:0.69
International conferences:
B. Bharathi, V. Deepalakhmi and I. Nelson " A Neural Network Based Speech Recognition System for Isolated Tamil Words" , in proceedings of International Conference on Neural  Networks and Artificial Inteligence, Brest, Belarus, June 2006.
B. Bharathi, Vetriselvi "Music genere classification of audio signals" in proceedings of International conference on Soft computing Techniques in engineering, Avinashilingam University for woman, Coimbatore, January 2007.
Suvidha Rupesh Kumar, B. Bharathi " A Novel approach to continuous Tamil word Recognition" in proceedings of International conference on Emerging trends in High Performance Architecture Algorithms & computing, at , SSN College of Engineering, 13th July 2007. 
B. Bharathi, K. Prathiba "A novel approach for automatic phoneme segmentation" in proceedings of International conference on Information science and Applications, at Panimalar Engineering college, Poonamallee, Chennai, 6th Feb 2010.
C. Arun Kumar, B. Bharathi and T. Nagarajan, "A discriminative GMM technique using product of likelihood Gaussians" in proceedings of  IEEE Tencon at Singapore, during 23-26 Nov. 2009.
B. Bharathi, P. Vijayalakshmi, T. Nagarajan "Speaker identification using utterances correspond to speaker-specific-text " in proceedings of IEEE Technical symposium at IIT Khargpur, during Jan .14 – 16, 2011.
P. Vijayalakshmi, B. Bharathi, T. Nagarajan,  "Reducing the complexity of a triphone- based speech recognition system based on degree of coarticulation", in proceedings of IEEE Technical symposium at IIT Khargpur, during Jan .14 – 16, 2011.
Ms. L. Kavitha and B. Bharathi, "Speaker verification using support vector machine" in proceedings of  second IEEE international conference on communication and signal processing (ICCSP-13) held at Adhiparasakthi engineering college, 3-5 April, 2013.
B. Bharathi and T. Nagarajan. " GMM and i-vector based speaker verification using speaker-specific-text for short utterances", in proceedings of TENCON 2013, at Xi'an, China,22-25, Oct, 2013. 
P. Suba and B. Bharathi, "Analysing the Performance of Speaker Identification Task using Different Short Term and Long Term Features", Proceedings of 2014 IEEE International Conference on Advanced Communication Control and Computing Technologies, Syed Ammal Engineering College, Ramanathapuram, May 8-10, 2014, ISBN: 978-1-4799-3914-5, pp.1451-1456
Bharathi B, Mohamed Ashique A, Aravind Krishna V V, Kavitha S, "Speaker age estimation from speech utterance using i-vector and Gaussian mixture model", Seventh international conference on Advanced Computing(ICoAC'15), MIT campus, Anna University, Chennai, Dec 15-17, 2015
Bharathi B, Kavitha S, Umar Ali S and Mohana Priya K, "Speaker verification in a noisy environment by enhancing the speech signal using various approaches of spectral subtraction", 10th IEEE International Conference on Intelligent Systems and Control (ISCO 2016), Karpagam college of Engineering, Coimbatore. Jan 7-8, 2016
Kavitha S, Mohana Priya K and Bharathi B, "Brain tumor types and grades classification based on statistical feature set using Support Vector Machine", IEEE International Conference on Intelligent Systems and Control (ISCO 2016), Karpagam college of Engineering, Coimbatore, Jan 7-8, 2016.
B. Bharthi, S. Kavitha, Nekshan Percy Kotwal, Nivedita Parasaram and J. Piriyanga, "Unit selection based speech synthesis for converting short text message into voice message in mobile phones", International conference on advanced computing and communication systems, Sri Eshwar College of Engineering, Coimbatore, January 6-7, 2017.
Hans Krupakar, Keerthika Rajvel, B. Bhrathi, Angel Deborah and K. Valli devi, "A survey of voice translation methodologies -acoustic dialect decoder" IEEE International Conference on Information Communication & Embedded Systems(ICICES 2016), S.A. Engineering College Chennai, Feb 25-26, 2016.
B. Bharthi, S. Kavitha, Nekshan Percy Kotwal, Nivedita Parasaram and J. Piriyanga, "Unit selection based speech synthesis for converting short text message into voice message in mobile phones", International conference on advanced computing and communication systems, Sri Eshwar College of Engineering, Coimbatore, January 6-7, 2017
B. Bharathi, G. Sridevi, G.J. Varshitha, "Recognizing and Retrieving the meaning of Thirukkural from speech utterances", International conference on signal processing, communications & networking, Madras Institute of Technology, March 16-18, 2017.(Received Best Paper Award)
J Mary Hanna Priyadharshini, S Kavitha and B. Bharathi, "Classification and Analysis of Human Activities", IEEE International Conference on Communication and Signal Processing (ICCSP 2017), April 6-8, 2017.
Bharathi B, Kavitha S, Shashaank D S, Priyanka S and Sriram V, "Speech Recognition based Chess System for Visually Challanged", International Conference on Energy, Communication, Data Analytics and Soft Computing (ICECDS 2017), SKR Engineering College, Poonamallee, August 1-2,2017.
B. Bharathi,M. Anirudh, J. Bhuvana published a paper titled "Bharathi SSN @ INLI-FIRE-2017:SVM based approach for Indian Native Language Identification" International conference on Forum of Information Retrieval Evaluation (FIRE 2017), In CEUR proceedings, Vol. 2036, pages:110-112, Indian  Institute of Science, Dec. 2017.
Bharathi B, Kavitha S and Suga Priya S, " Bilingual speech recognition system for isolated words using deep neural network", International Conference on Computer, Communication, and Signal Processing (ICCCSP – 2018), SSN College of Engineering, Feb 22-23, 2018.
Saranya S, Bharathi B and Kavitha S, "An approach to detect replay attack in automatic speaker verification system", International Conference on Computer, Communication, and Signal Processing (ICCCSP – 2018), SSN College of Engineering, Feb 22-23, 2018.
Mirunalini P, Bharathi B, Nirupan Ananthamurugan, Skanda Suresh and Shreyas Gopal, "Multi-Level Smart Parking System", International Conference on Computer, Communication, and Signal Processing (ICCCSP – 2018), SSN College of Engineering, Feb 22-23, 2018.
Kavitha S., Bharathi B., Pravish S., Purushothaman S.S., Brain Visual State Classification of fMRI Data Using Fuzzy Support Vector Machine. , International conference on 2nd International Conference on Advanced Computing and Intelligent Engineering 23-25 November, 2017, Central University of Rajasthan, Ajmer, India, Published In: Panigrahi C., Pujari A., Misra S., Pati B., Li KC. (eds) Progress in Advanced Computing and Intelligent Engineering. Advances in Intelligent Systems and Computing, vol 714. Springer, Singapore, First Online: 10 July 2018, https://doi.org/10.1007/978-981-13-0224-4_15 (Scopus)
Suvidha Rupesh kumar, B. Bharathi, "Spoofing detection-A challenge in ASV – A survey" in International conference on cognitive IoT with big data and cloud(ICCIBC 2018), Hindustan Institute of Technology & Science,  25-26, Oct. 2018.
B. Bharathi, J. Bhuvana, "Statistical testing based feature selection for Native Language Identification", 10th international conference at DAIICT (FIRE 2018), Gandhinagar, Gujarat, December 7-9, 2018, pp.59-67. [CEUR proceedings, Volume: 2266] (scopus)
B. Bharathi, J. Bhuvana, "Domain Name Detection and Classification Using Deep Neural Networks", International Symposium on Security in Computing and Communication, pp. 678-686, Springer , 2018.
Saranya S, Suvidha Rupesh Kumar and Bharathi B., "Deep learning approach : Detection of replay attack in ASV systems, International Conference on Soft Computing and Signal Processing (ICSCSP-2019), Malla Reddy College of Engineering & Technology, Hyderabad, June 21-22, 2019.
Hemapriyalakshmi R, Akshara S, Keerthana S, Bharathi B and Kavitha S., "Acoustic Scene Classication using Convolutional Neural Network", International Conference on Soft Computing and Signal Processing (ICSCSP-2019), Malla Reddy College of Engineering & Technology, Hyderabad, June 21-22, 2019. 
Sharmadha S, Shivani K, Shruthi K, Bharathi B and Kavitha S, "Automatic speech recognition using deep neural network" International Conference on Soft Computing and Signal Processing (ICSCSP-2019), Malla Reddy College of Engineering & Technology, Hyderabad, June 21-22, 2019.
J. Mary Hanna Priyadharshini, S. Kavitha, and B. Bharathi, published a paper titled as "Comparative analysis of multilayer backpropagation and multi-channel deep convolutional neural network for human activity recognition", AIP Conference Proceedings 2095, 030014 (2019);https://doi.org/10.1063/1.5097525 Published Online: 09 April 2019