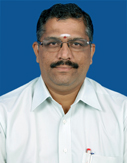 April 29, 2020
Dr. J. Suresh – Associate Professor
cse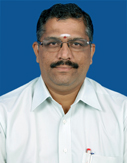 Dr. Suresh Jaganathan
B.E.(C.S.E.), M.E. (S.E.), Ph.D
Associate Professor
Url: www.drjs.in
Extn: 280
Dr. Suresh Jaganathan, Associate Professor in the Department of Computer Science and Engineering has more than 26 years of teaching experience. He received his PhD in Computer Science from Jawaharlal Nehru Technological University, Hyderabad, M.E.  Software Engineering from Anna University and B.E Computer Science & Engineering, from Mepco Schlenk Engineering College, Sivakasi, Madurai Kamarajar University, Madurai.

He has more than 25 publications in International Journals and Conferences of which four are Refereed SCI Indexed journals. Apart from this to his credit he filed 4 Patents and written a book on "Cloud Computing: A Practical Approach for Learning and Implementation", published by Pearson Publications. He is reviewer for refereed Elsevier Journal of Network and Computer Applications.  His areas of interest are Big Data Analytics, Artificial Intelligence, Machine learning and Blockchain Technology.

Areas of Research:

Artificial Intelligence, Machine Learning and Blockchain Technology.
Selected Publications
1. Kiruthigha Manikantan, and Suresh Jaganathan (2023), "A Model for Diagnosing Autism Patients Using Spatial and Statistical Measures Using rs-fMRI and sMRI by Adopting Graphical Neural Networks" Diagnostics 13(6):1143, pp:1-20, doi:10.3390/diagnostics13061143.
2. Veeramani KARTHIKA, Suresh JAGANATHAN (2023),"iLEDGER: A lightweight blockchain framework with new consensus method for IoT applications", IEICE TRANSACTIONS on Fundamentals of Electronics, Communications and Computer Sciences, Vol.E106-A,No.9,  doi:10.1587/transfun.2022EAP1088
3. Lakshmi Priya Swaminatha Rao, Suresh Jaganathan (2022), "Intelligent short-term traffic forecasting using deep learning models with Bayesian contextual hyperband tuning", International Journal of Computational Intelligence, Wiley, doi: 10.1111/coin.12554, Oct 2022.
4. Sathya Madhusudhanan, Suresh Jaganathan, (2022), "Data Augmented Incremental Learning (DAIL) for Unsupervised Data", IEICE Transactions on Information and Systems, pp:1185-1195, VOL.E105–D, NO.6 JUNE 2022, doi: 10.1587/transinf.2021EDP7213.
5. Sathya Madhusudhanan, Suresh Jaganathan, (2021), "Polarity Classification of social media feeds using incremental learning – A Deep Learning Approach", IEICE TRANSACTIONS on Fundamentals of Electronics, Communications and Computer Sciences, Vol: E105-A(3), pp:584-593, doi:10.1587/transfun.2021EAP1046
Patents:
J Suresh & A Srinivasan, "System and Method for Optimized Video Compression," Indian Patent (Granted), No. 374353. J Suresh & Karthika Veeramani, "A System and Method for Face Recognition using Regularized Discriminant Analysis," Indian Patent (Granted), No. 391516.
Funded Projects:
Title:  Designing a lightweight Consensus Mechanism in Blockchain for IoT based Asset Management
Principal Investigator: Dr Suresh Jaganathan
Co-Investigator         : Dr D. Venkatavara Prasad.
Duration                    : 3 Years
Fund                          : 9.59 lakhs
Automating the asset management system using IoT devices completes the daily management of assets and provides the whole life cycle of tracking the asset. The method we propose is dynamic. It falls in the asset inventory category when a real-time update of asset information is realized, including the transfer of assets. At the same time, inventory history should be automatically saved and should be queried. For updating assets, we use RFID, as it offers rapid long-distance identification, high reliability, is easy to operate and expand, and makes a better choice to use in automation. The proposed system also incorporates Blockchain technology to leverage the security in storing the logs and shares the logs created in predefined intervals as blocks with other IoT devices which control the RFID readers.
Professional Bodies:
IEEE (Senior Member)
ACM
ISTE
Google Scholar:
https://scholar.google.co.in/citations?hl=en&user=2FK4msoAAAAJ
LinkedIn: