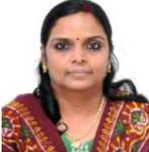 April 29, 2020
Dr. R. Seyezhai – Professor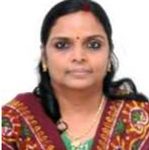 EEE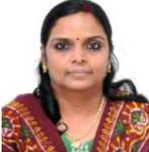 Dr. R.Seyezhai
B.E., M.E., Ph.D
Professor
Extn: 394
Dr.R.Seyezhai, Professor in Electrical& Electronics Engineering has 22 years of teaching and research experience including 15 years of research experience in Power Electronics and Renewable Energy Systems. She received her B.E. from Manonmaniam Sundaranar University in 1996 and M.E in Power Electronics & Drives from Bharathidasan University in 1998 and Ph.D. from Anna University, Chennai.
She has been actively involved in SSN-Institution's Innovation Council (SSN-IIC), SSN Innovation Centre, NBA, and ARIIA ranking in the institution. She has successfully completed the Innovation Ambassador training conducted by MoE's Innovation Cell & AICTE during 2021.
She has published over 250 research publications in referred International Journals and 150 in International and National Conferences. She received around 25 best paper awards in various international conferences.
She has authored two books on, Solid State DC and AC Drives and Power Electronics for Renewable Energy Systems with Scitech Publications.
She has received various awards that include the Young achiever and Research Excellence award for the Year 2017, Best Supervisor award 2017, Outstanding Faculty award in the field of power electronics in 2016, the Best Academic Researcher Award for the year 2015 from the Association of Scientists, Developers and Faculties and the Bharat Jyothi award in 2012 for outstanding contribution to student's community. She received the best teacher award for the academic years 2018-19,2017-18, 2016-2017,2016-15, 2013-14, 2012-13, 2004-2005 and the CTS Best Faculty Award for the year 2012-13
She has completed five researchprojects funded by the AICTE& SSN Management and is executing one funded project currently.
She has successfully graduated 12 Ph.D. students and currently guiding five research scholars.
She has developed 'Renewable Energy Conversion Laboratory' &Renewable Energy Systems Laboratory in the east wing of EEE Department, SSNCE with the help of external and internal funding. She is in the editorial board and reviewer board of several referred international journals. She is an active member in IEEE and life member in ISTE. Currently, she is the Chairman, IEEE-PELS, Madras chapter.
She has mentored students to develop Innovative solutions for solar based warning system and solar powered mobile charging station and has won prizes in national and international hackathons.
Currently, she organized a VirtualInternational conference on Renewable Energy systems -ICRES2020 and the conference proceedings were published in the Springer proceedings of Energy. She has also organized various workshops, seminars, hands-on training program in software simulation and delivered numerous keynote addresses and guest lectures.
Major Research Interests
Electric vehicles, Battery Management system, Quasi Z-source Multilevel Inverter for photovoltaic applications, Reliability of power converters, LED Drivers and Silicon Carbide (SiC) &GaN power devices.
Book Chapters
Seyezhai and A.Bharathi Sankar , "Design and Development of Bidirectional DC-DC Converters Using Battery/Supercapacitor for Electric Vehicle Applications", Book titled, Electric Vehicles and the Future of Energy Efficient Transportation, IGI Global Publisher, April 2021, ISBN No. 9781799876267.
Seyezhai and S. Maheswari,''Design of Low-Power Energy Harvesting System for Biomedical Devices, Book Titled, Electrical and Electronic Devices, circuits and Materials, Scrivener Publishing, Wiley, March 2021, ISBN 978-1-119-75036-9.
Seyezhai, andR.Sasikala "Simulation and Analysis of Controllers for Bridgeless Interleaved AC–DC SEPIC PFC Converter", Recent Trends in Renewable Energy Sources and Power Conversion, Select Proceedings of ICRES- 2020, 2021.
Seyezhai, andJ.AntoSheeba "Examination of Current control strategies for AC-DC Integrated Flyback PFC Converter for LED Applications", Recent Trends in Renewable Energy Sources and Power Conversion, Select Proceedings of ICRES- 2020, 2021.
Seyezhai, S.Harika,A.Sowmya, N.Ramakrishnan,&S.Purushothaman "Design and Implementation of Boost-Buck Dc-DcConverter for Battery Charging Application", Recent Trends in Renewable Energy Sources and Power Conversion, Select Proceedings of ICRES- 2020, 2021.
Seyezhai, D. Umarani and R.Sujatha , "Reliability Evaluation of Silicon Carbide (SiC) Boost Converter Using Stochastic Model", in the book , "Reliability, Safety and Hazard Assessment for Risk-Based Technologies" Lecture Notes in Mechanical Engineering book series (LNME).
Seyezhai and D. Umarani, "Reliability Study and Performance Analysis of Two-Phase Interleaved Boost Converter", Springer Proceedings in Energy, 2020.
Seyezhai and A.Bharathi Sankar, contributed a chapter on "Multilevel Inverter for BLDC Drives" in the textbook titled, "Advances in Control and Mechatronics Systems – Vol-1, 2016, United Scholars Publications, USA.
Products Developed
Solar based Electric Vehicle using BLDC Drive
Controller for stepper motor drive for crystal growth
Solar based Electric Trike
Flexible solar panel based electric bicycle with power converter
Solar based quasi z-source multilevel inverter for standalone application
Electrolytic capacitorless LED Driver
Major R & D Projects
Completed five R& D projects and currently doing one funded project
Completed Projects
Design of silicon carbide based hard switched DC-AC Power Converter", 2007-2010 – AICTE – Rs. 5 Lakhs.
Design and Development of Z-source cascaded Multilevel Inverter for photovoltaic applications, 2013-16, AICTE, RPS, Rs.24.5 Lakhs.
Solar Powered Electric Vehicle using BLDC Drive, 2013-16, Rs.4.5 Lakhs, SSN Management.
High efficiency PV module integrated converter based on cascaded quasi-Z-source inverter, 2016-19, Rs.4.5 Lakhs, SSN Management.
Modernization of Renewable Energy Conversion Laboratory, 2020-21- AICTE MODROBS – Rs.11 Lakhs.
Patents Filed & Published
Solar Powered Battery-operated Vehicle using BLDC Drive, Appl. No. 201741019394. (FER Filed)
A Novel encode –decode Power electronic circuit for data transmission, Appl.No.201841015775A.(FER Filed)