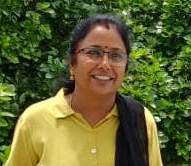 April 29, 2020
Dr. V. Rajini – Professor & Head of the Department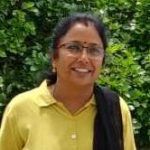 EEE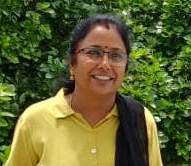 Dr.V. Rajini
B.E., M.E., Ph.D.
Professor & Head of the Department
Extn: 229
Dr.V.Rajini, Professor in Electrical& Electronics Engineering is a resourceful academic advisor, graduate mentor and accomplished researcher.
She has been majorly involved in NBA, NAAC, and NIRF activities in the institution. she has been appointed as ' Margadharshak ' by AICTE, for mentoring other institutions
She has numerous publications in IEEE, IET, Elseveir, Wiley and Taylor& Francis. She has also authored two books on " Electrical Machine Design"  and ' Electric Motor Drives' with Pearson international publishers.
She has completed three projects funded by the Government of India and is executing two funded projects currently.
She holds two patents to her credit and has been featured In " The Indian Express" for her innovation in Pulsed Electric Field.
She has successfully graduated 13 Ph.D. students and  36 P.G students
She has set up a high voltage lab at SSN and has traveled to many countries.  She has organized various national and international conferences and the latest being the fifth international conference on Electrical Energy Systems ICEES 2019′. She has also organized various workshops and given numerous guest lectures. Recently, she conducted a tutorial at ICRERA in the USA.
she has mentored students to develop'  A low cost open-sourced motor controller unit for Electric vehicles ' and has won the first prize of 1 lakh from M/S  Tata Motors.
She is the recipient of numerous awards like SSN Best faculty awards, CTS best faculty award, Distinguished Researcher Award, Leading scientist award, Bharat Jyoti award, and others
Major research Interests
High Voltage engg, Power Electronics and Drives, High voltage applications in Process Technologies, Hybrid Electric Vehicles, Power Electronics  for  HV applications, Solar photovoltaic and  wind energy systems
Research Students Supervised
N. Dinesh Babu," A Novel grid-connected solar photovoltaic systems", University of petroleum and energy studies, Dehradun, India. Year of completion: August 2014
Subramoniam," An efficient algorithm for early detection of arthritis", Sathyabam University, India. Year of September 2014
Deepalaxmi, "High energy radiation investigations on polymeric materials", Anna University, July 2015
Ganesan," Satellite Image Processing Techniques", Sathyabama University, September 2015
Anitha Roseline," Investigations of PWM techniques for Multilevel inverters, May 2017
Anoop," Investigations on high voltage DC-DC converter with Cockroft Walton voltage multiplier cells", October 2017
Abhitha Memala," Motor current signature-based processing techniques for fault diagnosis of an induction motor" Anna University, January 2018
Vasan Prabhu," Performance optimization of switched reluctance machine with robust speed controller" Anna University, February 2018
Margaret Amutha," Design and implementation of a fused DC-DC converter for solar -wind hybrid system powering rural telephony", Anna University, March 2018
Kanchana " Analysis and Mitigation of Over Voltages in Long Cable Fed Induction Motor Drives", Anna University, May 2019
Alagu Dheeraj" A Novel Interleaved Center Clamped Forward Converter for High Current Applications", August 2019
Krishnaveni," " Investigations on Pulsed Electric Field parameters for inactivation of Microorganisms in Liquid food", October 2019
R.B.Jeyapradha," Modular Solid State Transformer for Low/Medium Voltage Applications", December 2019
Research Projects
Principal Investigator -Risk/Reliability assessment of composite insulators- SSN Trust –Rs 11 Lakhs. (2006-2009)
Co-investigator – Preparation & Characterization of nanoparticles for electronic application by photochemical method, -Japan cooperative science program -10 lakhs (2007-2009)
Principal Investigator- Property enhancement of Silicone rubber/ Ethylene Propylene Diene Monomer blends for cable applications by E beam Irradiation- SSN Trust –Rs 3 Lakhs(2010-2012)
Modernizing HV lab as an integrated Power System Lab – funded by All India Council of Technical Education, India, Rs. 19.51 lakhs(2013-2014)
Principal Investigator -A Novel fused converter for SPV wind hybrid systems for powering rural telephony- Ministry of New and Renewable energy, India, Rs 34 lakhs( 2015-17)-
. Co-investigator -Isolated active lamp forward DC-DC converter for microprocessors– SSN Trust –Rs 3.5 Lakhs. (2015-2017)
Co-investigator – – High voltage pulse generator based High gain DC-DC Converter for PEF food processing- SSN Trust –Rs 2.15 Lakhs. (2016-2018)
Co-investigator- identification of cable insulating materials for nuclear power plants – SSN Trust – Rs.5.50lakhs( 2017-2020)D
Co-investigator -Development of Current doubler for microprocessors – Funded by SSN Trust, Rs. 5 lakhs
Principal investigator -A low-cost minimal footprint single phase solid state transformer for medium voltage applications, funded by All India Council of Technical Education, India under research promotion scheme( RPS) Rs. 20 lakhs ( 2017-2020)
Working on development of a Motor control Unit for Tata motors in continuation with winning of smart India Hackathon 2019
Publications & Patents
Patents:
Modular Intelligent Distribution Transformer Vide No 201641014396 dated 26-04-2017. published
Interleaved center clamped forward converter for high current applications, Application No.201741039792 A dated  30/03/2018 , published
Books & Chapters
V.Rajini, V.S. Nagarajan " Design of Electrical Machines ", Pearson Publishers, 2017,
ISBN 978-93-325-8557-7
V.Rajini, V.S. Nagarajan " Electric Motor Drives", Pearson Publishers, 2019, ISBN ISBN-
10: 938934266X
V.Rajini, R.Deepalaxmi, " Radiation Effects in Materials", ISBN 978-953-51-4718.
A.Singaravelu, V.Rajini, " Numerical methods and Computer Programming ", Lakshmi
Publications, 2001.
P. Ganesan and Rajini- Chapter contribution, "Segmentation and Comparison of Water
Resources in Satellite Images using Fuzzy based Approach", Springer book series
on Advances in Intelligent Systems and Computing, Springer Publishers, (ISSN 2194-
5357), 2014.
P. Ganesan and V. Rajini- Chapter contribution, "Unsupervised Segmentation of Satellite
Images based on Neural Network and Genetic Algorithm", Springer book series
on Advances in Intelligent Systems and Computing, Springer Publishers, (ISSN 2194-
5357), 2014.
Selected Publiations:
Rajini, K.Udayakumar," Discrimination of surface Tracking patterns of gamma-irradiated EPDM", Springer Link, Bulletin of material science, Vol 29, No 3, pp265-270, June 2006.
Rajini, K.Udayakumar," Surface tracking in polymers, A Pattern discrimination Technique", International Journal of Physics D Applied Physics, Vol 39 August 3,2006,pp3695-3701
Rajini, K.Udayakumar," Resistance to Tracking of EPDM Aged by Gamma Irradiation under AC and DC Voltages", International Journal of Emerging Electric power systems Vol. 8: Iss. 3, Article 2,pp1-18, 2007
Rajini, K.Udayakumar," Quantification of damage due to surface tracking", IEEE Transactions on Dielectrics and Electrical Insulation  Vol. 14 No 5,pp1224-1231,2007.
Rajini, K.Udayakumar," Degradation in Silicone Rubber under AC or DC Voltages in Radiation Environment", IEEE Transactions on Dielectrics and Electrical Insulation, Vol. 16, Issue 3, pp. 834-841, June 2009
Rajini, " Prediction of life of insulators- A statistical approach", Iranian Journal of electrical and computer Engineering, Vol.9, No.1, pp73-77, 2010,
Rajini, R.Deepalaxmi, M.Balaji, " Particle Swarm Optimization Based Selection of Optimal Polymeric Blend", IEEE Transactions on Dielectrics and Electrical Insulation, Vol.20. No 3, pp 922-931, June 2013 
Rajini," Accurate Location of Transformer hottest spot by FEM and Thermal models", International Journal of Computer Applications, Vol.37, No.6, Jan 2012(ISSN978-93-80866-03-7),
Rajini, R.Deepalaxmi, "Property Enhancement of SiR-EPDM Blend Using Electron Beam Irradiation", International journal of electrical engg& Technology IJEET, Vol.9, No.3, pp 742 –, May 2014
Rajini, R.Deepalaxmi," Evaluation of Gamma Irradiated SiR-EPDM Blends, International Journal of Nuclear Engineering and design, Elsevier publications, Vol. 273  pp 602-614, May 2014
Deepalaxmi R, Rajini V," Gamma and electron beam irradiation effects of SiR-EPDM blends", Journal of Radiation Research and Applied Sciences, Elseveir Publications, 2014.05.005, pp1-8, 1687-8507,
Margaret Amutha, V.Rajini," Techno-economic evaluation of various hybrid power systems for rural telecom", Renewable and Sustainable Energy Reviews (Elseveir publications), Vol. 43, pp553–561, 2015,
VasanPrabhu, V. Rajini, M. Balaji, and V. Prabhu," A Comparative Study of Operating Angle Optimization of Switched Reluctance Motor with Robust Speed Controller using PSO and GA", J ElectrEngTechnol Vol.10 pp 742- 750
AnithaRoseline, V.Rajini," A Novel Quadrant Search-Based Mitigation Technique for DC voltage Fluctuation in Multilevel Inverters" Journal of Power Electronics ( JPE)
Krishnaveni, V.Rajini, Rajes," Development of PEF Source in Nanosecond Range for Food Sterilization' Journal of energy systems, 11-4( 2015), pp 405-419, ISSN 1112-5209
Deepalaxmi  R, Rajini  V," Performance Evaluation of Electron Beam Irradiated SIR-EPDM Blends", IEEE Transactions on Dielectrics and Electrical Insulation, Vol. 22, Issue 6, pp. 3366-3375, December 2015.
V.Rajini, Abitha Memala W," Information-Theoretic Criteria for induction motor fault identification"   Indian Journal of Science and Technology, Vol 8(30), DOI: 10.17485/ijst/2015/v8i30/70494,  ISSN (Print): 0974-6846,  ISSN (Online): 0974-5645  
Rajini, Margaret Amutha(Full-time research scholar)," Cost-benefit and technical analysis of rural electrification alternatives in southern India using HOMER", Renewable and Sustainable Energy Reviews,  Elesrveir publications, Vol.62,2016, pp236–246,2016.( Annexure 1, Thomson Reuters indexed)
Anitha Roseline, M. Senthil Kumaran1, V. Rajini," Generalized space vector control for current source inverters and rectifiers", Archives of Electrical Engineering. Volume 65, Issue 2, Pages 235–248, ISSN (Online) 2300-2506
Rajini, W.Abitha me mala( Research scholar)," Motor current signatures and their envelopes as tools for fault diagnosis", Intelligent Automation and soft computing, Taylor and Francis, ISSN: 1079-8587 (Print) 2326-005X (Online),
Anoop J, RajiniV," Large Signal Modeling of DC-DC Converter with Multiplier Cells for High Voltage Generation" World Applied Sciences Journal 34 (10): 1414-1421, 2016, ISSN 1818-4952
Rajini, Abhitha me mala," Parametric Method based Inter-Turn Incipient Short Circuit Stator Fault Detection of Induction Motor" Indian Journal of Science and Technology, Vol 9(43), DOI: 10.17485/ijst/2016/v9i43/104668, November 2016
Rajini," A novel control scheme to improve the spectral quality of a single-phase bridgeless boost rectifier", International  Journal of  Power Electronics, Vol. 8, No. 1, pp 52-67,2016,   Interscience  Publishers, ISSN online: 1756-6398.
Rajini V, Anitha Roseline, Senthil Kumaran, vijayenthiran subramaniyan ," An Unified Algorithm for Multilevel Inverters" IET power electronics, 10 June 2017, 808 – 816
Krishnaveni S, Subhashini R, Rajini V.," Inactivation of bacteria suspended in water by using high-frequency unipolar pulse voltage". Journal of Food Process Eng. 2017; Wiley Publishers,e12574
Ikarus, V.Rajini, M G Danikas, R.Sarathi," A Study of Sir/EPDM Mixtures for Outdoor Insulators", International Journal of Engineering, Technology & Applied Science Research Vol. 7, No. 4, 2017, 1737-1740 1737-1740,
Margaret Amutha, V.Rajini," A new green energy interface for telecommunications" International Journal of Electronics, Taylor & Francis publishers,https://doi.org/10.1080/00207217.2018.1485178
Rajini, R.B.Jeyapradha," High-Frequency Transformer Design and Optimization using Bio-inspired Algorithms," International Journal on Applied artificial intelligence, Taylor &Francis, DOI: 10.1080/08839514.2018.1506969
Krishnaveni, V.Rajini," Diode clamped gate driver-based High voltage pulse generator for Electroporation ", Turkish Journal of Electrical and Computer Sciences. DOI:10.3906/elk-1710-133
Jeyapradha R.B., Rajini V. Small signal-averaged transfer function model and controller design of modular solid-state transformers. ISA Transactions (2018),Elseveir publications,https://doi.org/10.1016/j.isatra.2018.09.01
V.Rajini, alagu Dheeraj, "Center clamp for wide input voltage range applications" IEICE transactions on Electronics, vol. E 102,  No1, Jan 2019.
R B, Jeyapradha, Rajini V," a simple and cost-effective modular intelligent transformer for low and medium voltage applications", article no 19.1.4, Journal of Electrical Engineering: Volume 19 / 2019 – Edition: 1.
Rajini, Alagudheeraj," Evolutionary Algorithm Based On Soft Computing Techniques Used in forwarding Converter for Sustainable Applications and Energy Factor Approach"article no 19.2.31,  Journal of Electrical Engineering: Volume 19 / 2019 – Edition: 2, 2019.
Rajini V, Alagu Dheeraj," Interleaved center clamped forward converter ( ICCFC) for wide input voltage range applications", IET Power Electronics