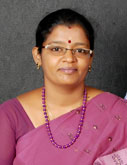 June 2, 2020
Dr. T. Girija – Associate Professor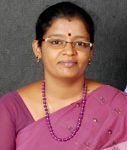 School of Management
Dr.T.Girija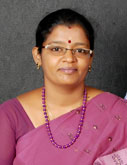 Associate Professor
Dr.T.Girija
Email: girijat@ssn.edu.in
Extn : 349

Profile:
With a clear career outlook as analytics professional in Resources Management function, pursued teaching and research as the basic activity, enabled by the Graduation in Statistics (B.Sc) from PSG College of Arts & Science, Coimbatore, Post-Graduation Management (MBA) from Bharathiar University, Master of Philosophy Management (M.Phil) from  Alagappa University and Doctorate(PhD) in Management  from Bharathiar University. Also, Qualified as a recognized teacher at State and National level through the process of SLET and NET in Management.
With diverse exposures at higher education Institutes over 15 years in Management, established as a trainer in Analytics for working executives educational program, Corporate executives in consultancy organization (Ernst &Young), Small business Entrepreneurs program for risk management besides teaching to post graduate student participants.
EDUCATIONAL QUALIFICATION
B.Sc (Statistics), M.B.A (Marketing), Ph.D (Marketing).
WORK EXPERIENCE
17 +years (as on Nov 2020)
TEACHING INTEREST
Statistics for management, Statistics for Analytics, Data Science (Descriptive and Predictive analytics), Research methodology, Marketing Management, Customer Relationship management, Services Marketing, Retail Marketing, Marketing Research and Principles of Management.
 RESEARCH AREA
Retailing and Higher education.
COURSES TAUGHT
Statistics for managerial Decision for MBA.
Statistics for Analytics for Post Graduate Certificate Program in Business Analytics and Data Science.
Data Analysis using  SPSS.
Data Analysis using Excel.
Data Visualization using Tableau.
Tools (Python)  for Business Analytics.
JOURNAL PUBLICATIONS
Article titled "A Conceptual study on the application of green Human Resource Management (HRM) practices in influencing organizational sustainability", Published in Journal of positive School Psychology, Vol 6(2), March 2022.
Article titled "Factors Influencing Consumers' Purchase Intention towards Electric Two- Wheelers" published in Sustainability, Vol13(22), Nov 2021.
Article titled "Impact of ICT as a pedagogical tool in higher education", Published in Tierärztliche Praxis, Vol 40, November 2020.
Article titled " Influences of Website Quality and Service Quality on Consumer Satisfaction Among Online food Ordering Consumer", Published in International journal of recent technology and engineering, Volume 8, Issue 3, September 2019
Article titled " Influence of Rewards and Recognition on Employees' Motivation and Job Performance: Path Analysis Approach", Published in Indian Journal of Science and Technology, Vol(12)12, March 2019, Pg 1-5
Article titled "Market readiness for virtual reality technology in education restricted to Chennai city", Published in Humanities and Social Science studies, Volume 6, Number 1-2, Pg 10-18. Article titled "A study on Potential Tenants' Perception towards Service Apartment", Published in Mantech Publication – Journal of Hospitality and Tourism management, Volume 1:Nov1: 2017, Pg 1-20.
Article titled "Influencing diffusion and continuance of massive open online course (MOOC)", Published in Asian Journal of Management; , July – September 2017, Vol.8 Issue 3 Pages 731-733. ISSN 0976-495X(Print ISSN 0976-495X, Online ISSN 2321-5771)
Article titled "Assessing the Readiness to Adopt E-learning among Industrial Training Institute Students in Tamil Nadu", Published in IOSR Journal of Business and Management, Volume 19, Issue 1, Ver.1 Jan. 2017
Article titled "Study on Principles for implementing CRM Strategies for Organized Retail in India", Published in Zenith International Journal of Business Economics & Management Research, Volume 2 (12), December 2012, ISSN 2249 8826, p 249-254.Article titled "Marketing Strategies for Organised Retailing." Published in  " HRD Times", Vol 14 (2012), December 2012, ISSN : 0976-7401, p 27-28 [Print form]
Article titled "A Study On Application of Business Intelligence for Retailing in India." Published in  " Asian Journal of Research in Banking and Finance", Vol 2 (2012), Issue no 11, November, ISSN : 2249- 7323, p 14-25
Article titled "A Study on Consumer Attitude towards Departmental Stores in Coimbatore City, Tamilnadu." Published in "International Journal of research in commerce and management", Vol 3(2012), Issue no 6, June, ISSN 0976-2183, p 15-19.
 PAPERS PRESENTED IN CONFERENCES
Paper titled "A study on Customer Relationship Management practices by Retailers." in International conference on  'The Emerging Landscape of Retail and Impact on Economy'  at University of Madras  held on 6th and 7th September 2012 and published in proceedings [ISBN 978-81-8094-158-0,p 588-593]
Paper titled "Principles for implementing CRM Strategies for Organized Retail in India" in National conference conducted at Annamalai University, Department of Business Administration, Chidhambaram, on 22nd March 2012.
Paper titled " Interactive marketing strategies for sustainable growth of organized Retail in India" in National Conference conducted at Jamal Institute of Management, Tiruchirappalli, on 25th Jan 2011 and published in proceedings [ISBN No.:978-81-909104-0-8, p493-497]
Paper titled " Marketing strategies for Organized Retail to capture Rural market" in National Conference Meta Management conducted at Adiyaman College of engineering, Hosur, on 25th January 2011
Paper titled " Online trading- a tool for teaching learning process of security analysis and portfolio management" in National Conference on " Management – A changing scenario " conducted at Panimalar Engineering College, Chennai on March 6th 2010 published in proceedings [ISBN No.978-81-904760-3-4, p 103-106]
Paper titled " The role of business schools in India in Managing global changes and challenges" in International Conference on " Managing Global Changes and challenges" conducted at Nehru college of Management, Coimbatore during 24-26 September 2009
CORPORATE MENTOR
Ernst &Young – Have conducted a Corporate Training Programme for employees of Ernst & Young (Trivandrum) on ' Statistical tools for Business Analytics'.
PGPBADS– Faculty member handling Course for 15+ batches of 'PG Certificate programme in Business Analytics and Data Science'  for participants from various Corporates.
HCL– Faculty handling course for 'PG Certificate program on Data Science, AI and ML' for the HCL Executives/ Professionals.
 CERTIFICATIONS
Business Analytics for Management Decision -NPTEL.
Tablue A-Z hands – on – Udemy.
Python for Data Science – Udemy