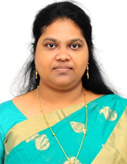 April 29, 2020
Dr. S.V. Jansi Rani – Associate Professor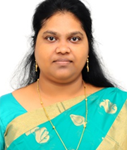 cse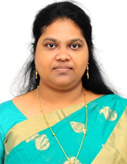 Dr. S.V. Jansi Rani
B.E., M.Tech., Ph.D
Associate Professor
Extn: 225
Dr.S.V.Jansi Rani Sella Veluswami is currently associated with Sri Sivasubramaniya Nadar College of Engineering (SSNCE) as Associate professor in the Department of Computer Science and Engineering. She did her under-graduation in Periyar Maniammai College of Technology for Women, Tanjavur, Bharathidasan University, post-graduation from SASTRA University and her doctorate from Anna University, Tamil Nadu, India. She is in the teaching field for past 18+ years. She has published many papers in her area of research. Her area of interest is on Computer Vision, Device to device Communication, Deep Learning, Congestion Control, Transmission Control Protocol, Internet of Things.
She is an active researcher working in Sustainable development of Aquafarming and Marine Biodiversity using Computer Vision for which she has collaboration with CIBA( Central Institute of Brackish Aquaculture), Tamilnadu J.Jayalalitha Fisheries University(TNJFU)  and an international collaboration with South African Institute for Aquatic Biodiversity(SAIAB).
She also focusses on Device-to-Device(D2D) Communication in 5G Network using Artificial Intelligence for which she works with an international team in collaboration with University of Cyprus, Cyprus.
Areas of Research
Computer Vision, Artificial Intelligence, Device to device Communication, Intelligence for Aquafarming
Selected Publications
1. S.V. Jansi Rani, Iacovos Ioannou, Prabagarane Nagaradjane, Christophoros Christophorou, Vasos Vassiliou, Sai Charan, Sai Prakash, Niel Parekh, Andreas Pitsillides, "Detection of DDoS attacks in D2D communications using machine learning approach", Computer Communications", Volume 198, 2023, 743-751, Pages 32-51. IF:5.021
2. Jansi Rani, S V,  Raghu Raman, V., & Rahul Ram, M. (2022). Multi object detection and classification in solid waste management using region proposal network and YOLO model, Global Nest Journal,24(4), 2022., pp.743-751, IF :1.475
3. Sella Veluswami, J.R., & Panneerselvam, N. (2022). Multi-species Fish Identification using Hybrid DeepCNN with Refined Squeeze and Excitation Architecture. Aquatic Sciences and Engineering, 37(4), 220-228. https://doi.org/10.26650/ASE202221163202 , IF: 0.725
4. Jansi Rani Sella Veluswami, Sarath Chandran K.R, Akshaya Ranganathan, Chandrasekharan M, Janani B, Deepsheka G, Smart Wearable Model for Predicting Heart Disease using Machine Learning Journal of Ambient Intelligence and Humanized Computing, Vol13, Issue 9, September, 2022 .IF: 7.104 https://doi.org/10.1007/s12652-022-03823-y
5. Jansi Rani S V, A. M. Ramakrishnan, and K. Rishivardhan. "Improving Water Quality Assessment through Anomaly Detection Using Hybrid Convolutional Neural Network Approach.",Global NEST Journal, ISSN: 1790-7632, Vol 24(1), 2022,pp 1-8,  https://doi.org/10.30955/gnj.003923, IF :1.475
6. S. V. Jansi Rani, P. Senthil Kumar, R. Priyadharsini, S. Jahnavi Srividya, S. Harshana, Automated weed detection system in smart farming for developing sustainable agriculture. Int. J. Environ. Sci. Technol. (2021).pp 1-12 https://doi.org/10.1007/s13762-021-03606-6. Thomson Reuters Indexed,  IF: 2.826
7. Jansi Rani Sella Veluswami, Karthikeyan Chinnusamy, Kailash Kumar, Villalba‑Condori Klinge, Suryakanth Mohankumar, "Improvement of Transmission Control Protocol for High Bandwidth Applications",   Wireless Personal Communications, 2021, Vol.117, Issue(4),Pg: 3359-3379 2021 ISSN: 0929-6212, 10.1007/s11277-021-08074-2 Thomson Reuters Indexed,  IF: 1.782
Funded Projects
SSN Funded Project:
1. Advanced manoeuvre detection and alert systems
2. Wild Animal Intrusion detection from Forest into residential area using sensor platform.
3. Heart Attack Predictor
4. Weed detection and removal by robot for precision agriculture – Using image processing techniques.
5. Voice enabled personal assistant robot for the visually impaired.
6. Wearable Safety Device for Women
7. Automatic Weed Detection and Removal System
Google Scholar :
https://scholar.google.com/citations?hl=en&tzom=-330&user=CIeEcEEAAAAJ&authuser=1
LinkedIn :