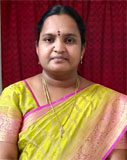 April 29, 2020
Dr. R. Priyadharsini – Associate Professor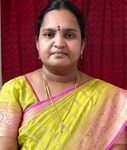 cse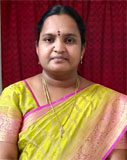 Dr. R. Priyadharsini, Associate Professor in the Department of Computer Science and Engineering has more than 18 years of teaching experience. 
She received her Ph.D. (2019) in Computer Science from Anna university, M.E. Computer Science and Engineering (2008) from Easwari Engineering College, Anna University, B.E. Computer Science and Engineering (2000) from Madras University.  She has received University 12th rank in her post-graduation degree from Anna University. 
Her research interests include Acoustic image processing, Machine learning, Computer vision and Data analytics. She encourages the under-graduate students to do research and have published papers in journals and conferences with them. 
She has worked in Arunai Engineering College for two years and Easwari engineering college for ten years. She has organised National conferences, workshop and Faculty development programme. She has published papers in International Journals and Conferences. 
Selected Publications
Conferences
R. Priyadharsini, Dr. T. Sree sharmila, Dr. V. Rajendran, "Underwater acoustic image enhancement using wavelet and KL transform", IEEE International conference on applied and theoretical computing and communication technology, October 2015.

R. Priyadharsini, Dr. T. Sree sharmila, Dr. V. Rajendran, "An Efficient Edge Detection Technique Using Filtering and Morphological Operations for Underwater Acoustic Images", ACM Second International Conference on Information and Communication Technology for Competitive Strategies Proceedings, March 2016.

Sharumathi K and R. Priyadharsini, "A Survey On Various Image Enhancement Techniques For Underwater Acoustic Images", International Conference on Electrical, Electronics, and Optimization Techniques (ICEEOT) – 2016, DOI: 978-1-4673-9939-5/16, 2016, IEEE, Pg No: 2930-2933 

S. Shivaranjani and R. Priyadharsini, "A Survey on inpainting Techniques",  International Conference on Electrical, Electronics, and Optimization Techniques (ICEEOT) – 2016, DOI:978-1-4673-9939-5/16, 2016 IEEE, Pg No: 2934-2937. 

M. Dhanalakshmi, P. Mirunalini, R. Priyadharsini, T.T. Mirnalinee, "Review of Feature Extraction and Matching methods for Drone image Stitching", International Conference on ISMAC in Computational Vision and Bio-Engineering,  May 2018 

R. Priyadharsini , T. Sree Sharmila , Dhanushree M, "Evaluation of Filters using Speckle Noise Suppression Measures for Underwater Acoustic Images", International Conference on Intelligent Computing and Sustainable System, September 2018 

P. Mirunalini, R. Priyadharsini, Vignesh Gokul, Sharath Chander. P, J.Soundarya, "Generative Adversarial Networks for Image Generation", International Conference on Inventive Computation Technologies, November 2018 

J. Soundarya, Sharath Chander. P, R. Priyadharsini, P. Mirunalini, "Audio Hiding in an image using  steganographic methods ", International Conference on Inventive Computation Technologies, November 2018 

Sharath Chander. P,  J. Soundarya , R. Priyadharsini ," Brain Tumour Detection and Classification using K means clustering and SVM Classifier" , RiTA 2018, 6th International Conference on Robot Intelligence Technology and Applications, Dec 16, 2018 – Dec 18, 2018, Pullman Lakeside Hotel, Putrajaya, Malaysia published in Lecture notes in Mechanical Engineering

 L.Yamini, R.Priyadharsini, A. Beulah, " Sickle Cell Detection in Blood Smear Images using Shape Descriptors", ICMCE 2018, International Conference on Mathematical Computer Engineering,  November, 2018
Journals
R. Priyadharsini, Dr. T. Sree sharmila, Dr. V. Rajendran, "Acoustic image enhancement using Gaussian and laplacian pyramid – a multiresolution based technique", Multimedia Tools and Applications

, February 2017

,

Springer, DOI 10.1007/s11042-017-4466-7, Impact Factor: 2.101,

ISSN: 1573-7721.

R. Priyadharsini, Dr. T. Sreesharmila, Dr. V. Rajendran, "A wavelet transform based contrast enhancement method for underwater acoustic images", Multidimensional System and Signal Processing,

November 2017, Springer, DOI 10.1007/s11045-017-0533-5, Impact Factor: 2.338,

ISSN: 1573-0824.

R. Priyadharsini, A. Beulah, T. Sree Sharmila , "Optic Disc And Cup Segmentation In Fundus Retinal Images Using Feature Detection and Morphological Techniques",  Current Science Journal,

Impact Factor: 0.843,

ISSN: 0011-3891.

Dhanushree, M., Priyadharsini, R. & Sree Sharmila T, "Acoustic image denoising using various spatial filtering techniques", International journal of information Technology, Springer. https://doi.org/10.1007/s41870-018-0272-3, ISSN 2511-2112
Workshop/ Seminar/ FDP organised
Six Day Anna University co-sponsored FDTP on "Problem Solving and Python Programming", June 10th – 15th, 2019.

Computational thinking workshop, First year CSE students, "Computing 101", 7th and 8th of September 2018

SHAPE program for 11th standard students, 29th April to 10th May, 2019

National workshop on Atmospheric Aerosols, Data Assimilation & Weather Modelling jointly organized by SSNCE and SSN – Centre (AADW – 2018) for Radiation Environmental science and Technology (SSN – CREST) in association with Indian Nuclear Society, Kalpakkam branch, 25th January 2018

Two day National workshop on computational platforms for research in Bioinformatics: Challenges at the interface of Computer Science and Biology' 24th and 25th March 2017

One Day National Seminar On Predictive Analytics – Big Data And Healthcare 12/2/2016 

One day national workshop on challenges in image mining : A research perspective

27 February 2015

Student Engagement Program along with Ascendant technologies, 28.2.2014

24 hours Hackathon for SSN students with Ascendant technologies, 8.3.2014
Faculty Internal Funded Project
S. Manisha, R. Priyadharsini, A. Beulah, T. Sree Sharmila, "CYBORG for Object detection", 18 months, Budget: Rs.1.26 Lakhs, 2018-19
Dr. S. V. Sivapriya and Dr. R. Priyadharsini, "Prediction of shallow type landslide influenced by rainfall using ANN", 18 months, Budget: Rs. 2.00 Lakh, 2019-20