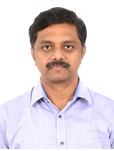 April 30, 2020
Dr. S. Joseph Gladwin – Associate Professor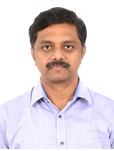 ece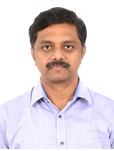 Dr. S. Joseph Gladwin is an Associate Professor in the Department of Electronics and Communication Engineering and has over 21 years of experience in teaching. He received his B.E. in Electronics and Communication Engineering from Bharathidasan University, M.E. in Applied Electronics from College of Engineering Guindy, Anna University and Ph.D. from Anna University Chennai.
He has over thirty research publications in International Journals and Conferences. He is a co-author of one book titled 'Basic Electrical and Electronics Engineering'. He has been the session chair for several technical symposiums and International Conferences, and also delivered invited talks in various workshops, Faculty Development Programs etc… He has also organized several workshops and seminar. He has guided around 20 projects for post graduate students and around 10 under graduate projects. He was the Mentor for the winning team in 'Smart India Hachathon 2018' under 'AICTE' at New Delhi and the team got a cash award of Rs. 100000/-. He was SPOC for Smart India Hackathon during 2019 and 2020 at SSN CE.
He is an active member in various professional societies. He is a Senior Member of IEEE, Member of IEEE AP-S, IEEE Communication Society (ComSoc), IEEE SP-S, Life member IETE and Life member ISTE. He was Chair of IEEE AP-S Madras Chapter for the years 2016, 2017 and Secretary for IEEE AP-S Madras Chapter from 2018 to till date. He participated in the '2019 IEEE International Symposium on Antennas and Propagation and USNC-URSI Radio Science meeting' at Atlanta Georgia USA as nominee from IEEE AP-S Madras Chapter. He was member of Executive Committee (ExeCom) of IEEE Madras section during 2018 and 2019 and Treasurer of IEEE Madras section for the years 2020 and 2021.
He is the Program Officer of 'Youth Red Cross Unit' and Coordinator of 'Red Ribbon Club' at SSN CE. As faculty In-charge of YRC and RRC, he has organized several study camps and social welfare activities in the Institution and in nearby villages. Under his able guidance, College received 'Certificate of Appreciation for Best Performance in YRC activities' by Indian Red Cross Society, Tamil Nadu Branch.
He is also Non-Residential Deputy Warden of Gents Hostels at SSN CE. His areas of interest include Electromagnetic Fields, Signal and Image Processing, and Wireless Communication.
Funded Research Project
| | | | |
| --- | --- | --- | --- |
| 1. | Title | : | Vision base gesture recognition for educating hearing impaired people |
| | Organization | : | SSN Trust |
| | Sanctioned Amount | : | Rs. 0.6 Lakh |
| | Status | : | On going |
| | Role | : | Co-Investigator |
| | | | |
| 2 | Title | : | Vehicle theft intimation system using GSM and GPS interfaced with biometric |
| | Organization | : | SSN Trust |
| | Sanctioned Amount | : | Rs. 0.2 Lakh |
| | Status | : | Completed |
| | Role | : | Project Supervisor |
| | | | |
| 3 | Title | : | Warp the Scrap |
| | Organization | : | SSN Trust |
| | Sanctioned Amount | : | Rs. 0.25 Lakh |
| | Status | : | Completed |
| | Role | : | Project Supervisor |
| | | | |
| 4 | Title | : | Automated Seed Planter |
| | Organization | : | SSN Trust |
| | Sanctioned Amount | : | Rs. 0.2 Lakh |
| | Status | : | Completed |
| | Role | : | Project Supervisor |
| | | | |
| 5 | Title | : | Smart Walking Cane |
| | Organization | : | SSN Trust |
| | Sanctioned Amount | : | Rs. 0.11 Lakh |
| | Status | : | Completed |
| | Role | : | Project Supervisor |
| | | | |