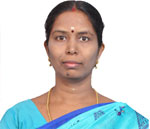 April 29, 2020
Dr. S. Rajalakshmi – Assistant Professor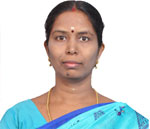 cse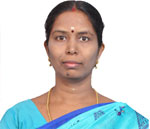 Dr. S. Rajalakshmiis working as an Assistant Professor in the Department of Computer Science and Engineering and has a total 19 years of experience in teaching and research. She received her Ph.D in the area of "Content Boosted Hybrid Filtering for Enhanced Personalization in Recommendation System" from Anna University, Chennai. She completed M.E degree in Computer Science and Engineering from PSG College of Technology of Bharathiyar University. She did B.E degree in Computer Science and Engineering from National Engineering College, ManonmaniyamSundaranar University. She acquired university fourth rank in it. She had working experience in Coimbatore Institute of Technology, Coimbatore and MepcoSchlenk Engineering College, Sivakasi for more than 5 years. She is working in SSN CE from 2008.
Her area of interest includes Data Mining, Machine learning, NLP and Internet Technologies. She published many papers on various conferences and journals and has attended various workshops and faculty development programmes. She has organized various workshops in Natural Language Processing and Embedded Software development. She has organized a Six-day Anna University Sponsored FDTP on "Problem Solving and Python Programming".
She has guided projects in the area of networks, image processing, machine learning, and data mining. She is a professional member of ISTE and IEEE societies.
Funded Project:
Title: Fine-grained emotion recognition system for Counselling
Investigators: Ms. Angel Deborah, Dr. R. S. Milton, Dr. S. Rajalakshmi, Dr. M. Saritha
Funded by: SSN Trust
Amount: 1.45 Lakh
Duration: 2020 – 2022
Consultancy Project:
Title: Scalable Mobile Application for Performing Full Text Search (FTS)in SQLite Database
Investigators:Dr.ChitraBabu, Dr. S. Rajalakshmi, Ms. S. Angel Deborah
Funded by Company: Caterpillar India Engineering Solutions Private Limited
Amount: 1.87 Lakh
Duration: 2022 (7 months)