August 30, 2021
Dr. T. Micha Premkumar – Assistant Professor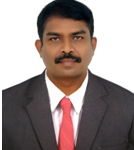 mechanical
Qualification
B.E. Mech (2001), M.Tech., (Energy Technology) (2005), Ph.D. (2012)
Institute of Ph.D.
Indian Institute of Technology , Madras
Experience in SSN
Joined on 11-08-2021
Experience prior to SSN
9 years in academics and research (Do not include PhD period, if full time)
Institutions worked previously
Hindustan Institute of Technology and Science, Padur, Chennai.
Research Interests
Renewable Energy, Wind turbine, CFD, cavitation, Turbomachine, Fluid Mechanics.
Research Supervision till date
1 Ph.D Scholar – Completed (in HITS)
Research Output in SSN
Research output prior to SSN
77 publications in Journals; 8 presentations in conferences
Research Profile
https://scholar.google.com/citations?user=x0RoEvQAAAAJ&hl=en
Funded Projects
1 from MNRE (HITS) (Details listed below)
Professional Activity
1. Member of ASME, SAE India
2. Recognized Reviewer for International Journals "Renewable Energy" (Elsevier)
Professional recognition
1. Guest speaker and session moderator for2nd Pan India Research Network meet "An Industry and Academia Amalgamation" Jointly organized by National Institute of Wind Energy (NIWE)-Chennai, Malaviya National Institute of  Technology (MNIT)-Jaipur on 06-1-2020.
2. Qualified for Research Associateship 2010 to 2012, CSIR,  New Delhi.
Administrative Activity
CAT Question paper assessment Coordinator, Curriculum/Syllabus, DQAC, LMS Moodle
As a Person
fitness enthusiast
FUNDED AND SPONSORED PROJECT
Title: Design and Development of 1kW Hybrid Vertical Axis Wind Turbine used in Low Wind Speed Regime
Funding Agency:  MNRE,  New Delhi.
Funding Cost: 28 Lakhs
Duration: 4 Years, 01-01-2014 to 31-12-2018
Status: Completed
List Of Top Five Publications
T.M. Premkumar, S Seralathan,  V Hariram, 2020, Dataset on the measurement of power in the hybrid vertical axis wind turbine in natural wind, Data in brief, Elsevier, 31, 1-13.
Micha Premkumar, T., Dhiman Chatterjee, Computational analysis of flow over a cascade of S-shaped hydrofoil of fully reversible pump-turbine used in extracting tidal energy, Renewable energy, Volume 77, 2015, pp. 240-249.
Micha Premkumar, T., Pankaj, Dhiman Chatterjee "Cavitation characteristics of S-blade used in fully reversible Pump-Tubine", Trans ASME J. Fluid Eng., 136(5), 2014
Micha Prem kumar, T., Alagumurthi, N, Palaniradja, K., 2008, "Conjugated Heat transfer analysis of gas turbine vane using MacCormack's Technique" vol.12, Thermal science, Issue 3, page[65-73].(Citation Impact factor: 0.784)
Micha Prem Kumar, T. , Dhiman Chatterjee, 2007, "Numerical study of Turbulent flow over a 'S'- Shaped Hydrofoil" vol.222, Proceedings of the Institution of Mechanical Engineers, Part C, Journal of Mechanical Engineering Science. (Journal Citation Report, Impact Factor: 0.888).