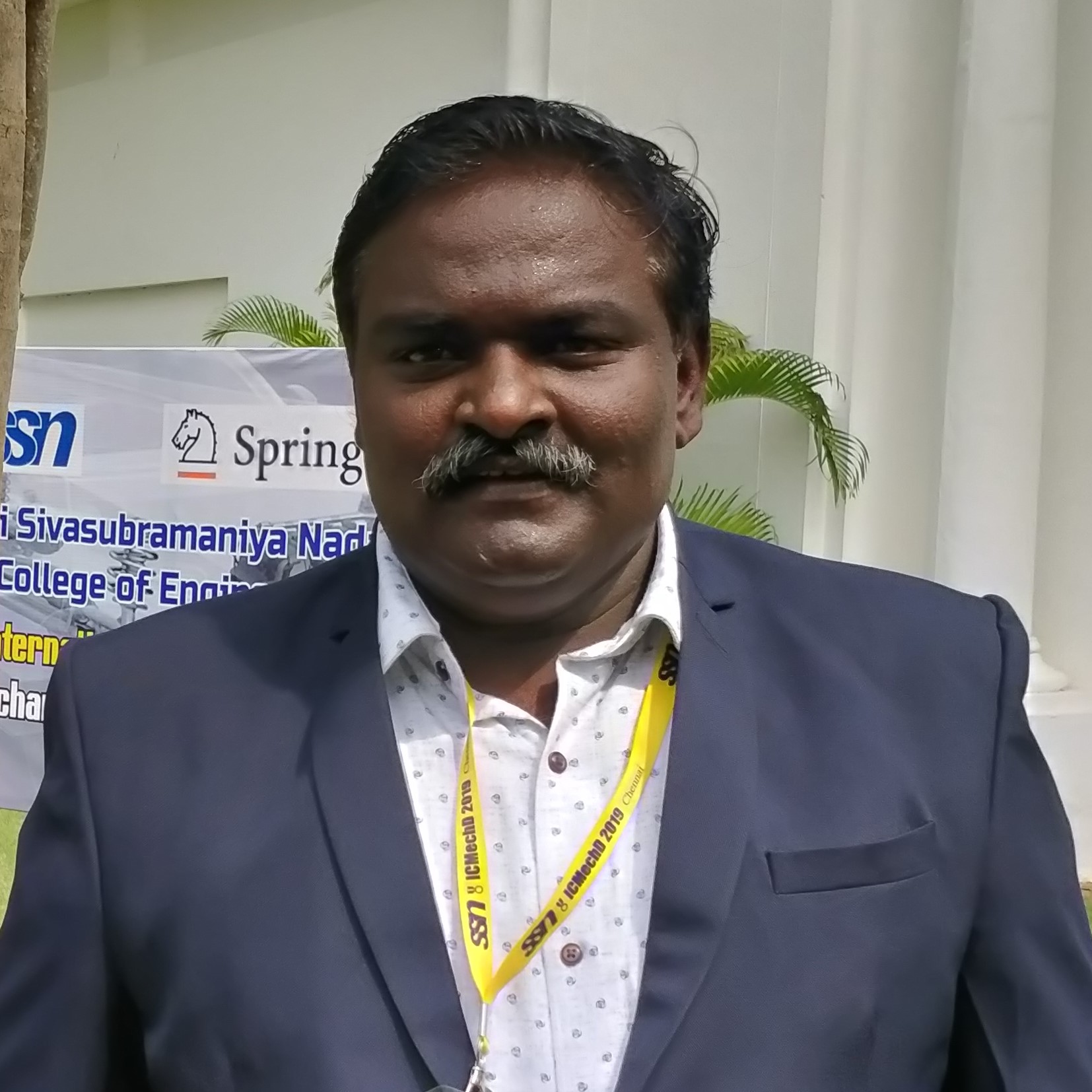 May 4, 2020
Dr. S. Vijayan – Professor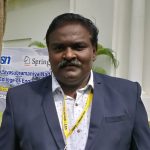 mechanical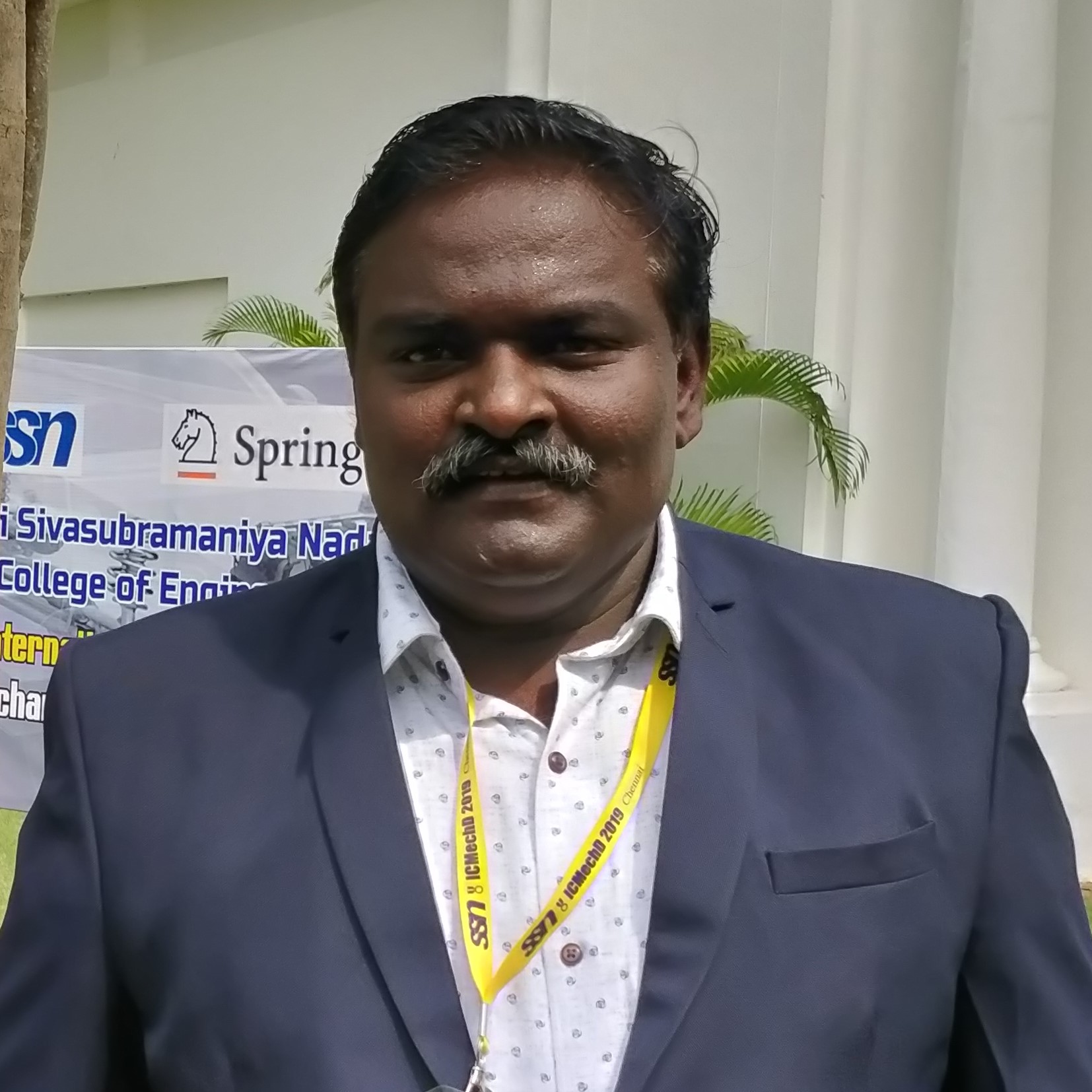 Dr. S.Vijayan
M.E., Ph.D.,
Professor
Extn: 442
Qualification
B.E. Mech (1997), M.E. Industrial Engineering (1998), Ph.D.(2010)
Institute of Ph.D.
Anna University, Chennai
Experience in SSN
Since July 1999, teaching Engineering Graphics, Engineering Mechanics, Engineering Economics, TQM, Principles of Management, Manufacturing Management, Production planning and control and Process planning and cost estimation.
Experience prior to SSN
5 months
Institutions worked previously
PSNA College of Engineering and Technology
Research Interests
Welding, Quality Engineering, Taguchi optimization
Research Supervision till date
Completed 1 Ph.D ; Thesis Submitted  1; Ongoing 3 Ph.D
Research Output in SSN
28 publications in journals ; 5 presentations in Conferences
Research output prior to SSN
Nil
Research Profile
https://scholar.google.com/citations?user=6s4q66sAAAAJ&hl=en
Funded Projects
Completed one Funded project from NRB
Completed one Funded project from SSN trust
(Details listed below)
Professional Activity
2 Books published.

Member of ISTE and IIW

Collaborative work with universities abroad
1.Collaborating with  Dr.Nachiappan Subramanian, Professor, University of Sussex, United Kingdom for a research proposal on "Zero food waste cultural awareness through cold chain educational game "
2. Collaborating with Dr. Kheng Lim Goh, Professor, New Castle University, Singapore for a research  proposal on "Cost-Effective and Eco-Friendly portable concrete production system for fabricating bricks to improve build environment from waste materials ".

Professional recognition
1. Nominated as Syllabus committee Co-ordinator in framing the curriculum regulation R- 2017 Anna university affiliated Engineering Colleges for Mechanical Engineering, Industrial Engineering and Manufacturing department.
2.Nominated as Chairman for Pass Committee at Anna University
3.Nominated as Chairman for Mechanical Board valuation at Anna University
Administrative Activity
1.Cheif Superintendent for Practical and Theory Examination Anna University.
2.Member in Exam Cell
3.Department IQAC Co-ordinator
4.Discipline committee member
As a Person
Likes to practice Win -Win Strategic leadership.
Likes to observe people and learn their best qualities
Loves to work as a team.
Interested to play and watch cricket.
Love to Watch Movies
Funded Projects List
S.No.
Title
Funding Agency
Project period
Value Rs.Lakhs
1
Friction Stir Welding of Scandium added Al-Mg Alloys
NRB
June 2006 to
December 2009.
23.94 lakhs
2
Evaluation of Microstructure and Mechanical Properties of
Dissimilar FSW on Magnesium Alloys of AZ31B and ZM21
SSN Trust
2013-2015
4 lakhs
Books / Book Chapters list
Process Optimization for Friction Stir Welding", ISBN 978-3-639-34391-5 published by VDM-Verlag.
Fixture Layout Design and Optimization", ISBN 978-620-2-05613-7.published by Lambert Academic Publishing
List of Top five Publications
R. Sasidharan, S. RajendraBoopathy, S. Vijayan and S. R. Koteswara Rao (2016), "Optimization of bead geometry for duplex stainless steel GTA welds using the Taguchi approach",Materials Testing,58 (2016), pp.312-318.
S.Vijayan S.Prasath and S. R. Koteswara Rao (2016), "Optimization of Friction stir welding process parameters for joining ZM21 to AZ31 of dissimilar Magnesium alloys using Taguchi Technique", La Metallurgia Italiana, Vol.5, pp.25-33.
Koil Raj M., Vijayan S., and Rao S.R.K.(2012), 'Friction Stir Welding of Dissimilar Aluminum alloys: AA2219 to AA5083 – Optimization of process parameters using Taguchi Method', Materials and design,Volume 42,PP 1-7.
Vijayan S., Raju R. and Rao S.R.K. (2011), 'Multi-Objective Optimization of Friction  Welding Process Parameters on Aluminum Alloy AA 5083 Using Taguchi Based Grey Relation Analysis', Accepted in Materials and Manufacturing Processes, Vol. 25, No. 11, pp. 1206-12.
Vijayan S., Raju R., Subbaiah K., Sridhar N. and Rao S.R.K. (2010), 'Friction Stir Welding of Al-Mg alloy-Optimization of process parameters using Taguchi Method', Experimental Techniques, Vol. 34, No. 5, pp. 37-44.