April 29, 2020
Dr. R. Ramaprabha – Associate Professor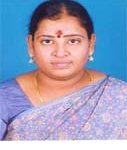 EEE
Dr. R. Ramaprabha
B.E., M.E., PhD.
Associate Professor
Extn: 451
Dr. R. Ramaprabha, Associate Professor in the Department of Electrical and Electronics Engineering has 20 years of teaching experience including 14 years of research experience. She obtained her B.E (ECE) degree and M.E. (Power Electronics and Drives) degree from Bharathidasan University, Tiruchirapalli, and Ph.D. from Anna University, Chennai.
Her area of specialization is solar photovoltaic systems. Other areas of research include power electronic interfaces for solar PV systems and control aspects in renewable energy interfaces. She is a recognized supervisor of Anna University. 5 scholars have completed their Ph.D. under her guidance and she is currently guiding 7 Ph.D. students. She is an approved research committee member in the Vellore Institute of Technology (VIT), Dr. M. G. R. University-Chennai, SRM University-Chennai, Saveetha University-Chennai, Visvesvaraya Technological University – Karnataka.
During her Ph.D., she developed "Solar Energy Research Lab" which is in the east wing of the EEE department with internal funding titled "Efficient Energy Utilization of Solar PV Array under Partial Shadow" of Rs.9.19 lakhs (funded by SSN Trust). She has published 100 research publications in international journals, 113 papers in the proceedings of refereed international conferences, and 32 papers in National conferences.
She has delivered Lecture & Tutorial sessions on PSPICE in National level workshops and guest lectures. She delivered invited lectures, keynote addresses, and chaired technical sessions in Indian/Foreign international conferences. She visited Singapore, Australia (Sydney) & USA (Hawaii) for paper presentation & chairing sessions. She organized 19 National level Workshops (1 CSIR sponsored worth of Rs. 30,000/-), 1 AICTE sponsored two weeks FDP worth of Rs. 3.55 lakhs, 13 Student level workshops, organized 2 National conferences, and 1 International conference.
She received best teacher award for the academic years 2009-2010, 2010-2011, 2014-2015, and 2016-2017. She also received CTS best faculty award for the academic year 2016-2017. She also received appreciation for the best researcher (2013), guiding Ph.D. students and motivating students towards research (2013, 2016) during the college Research day. She received the "IET CLN Sir C. V. Raman Research Award 2014" in IET Chennai Network Achievements Awards 2014 function by IET (The Institution of Engineering and Technology). She is a recipient of the "Outstanding Researcher Award 2016" by Venus International Foundation, Aufau International Awards, "PEARL Foundation Best Women Researcher Award 2016" and "2018 Green9 Energy Contributor Award – KALAM VISION 2020 award". Her name is included in the 30th, 32nd, and 33rd Editions of Marquis Who's Who in Science and Engineering, USA. She has been selected for 2017 & 2019 Albert Nelson Marquis Lifetime Achievement Award by Marquis Who's Who, USA.
She is a review board member for many reputed international journals include International journal on IET Renewable Power Generation, IET Power Electronics, IET Generation, Transmission & Distribution, IEEE Transactions on Power Electronics, International journal on Simulation Modelling Practice and Theory (Elsevier Publications), International Journal of Electrical Power and Energy Systems (Elsevier Publications), International journal on Renewable & Sustainable Energy Reviews (Elsevier Publications), International journal on Renewable Energy (Elsevier Publications), Journal of Green Engineering (River Publishers), IEEE Transactions on Smart Grid, IEEE access, etc.
She is a Senior Member of IEEE and Life member of ISTE. She was SSN-IEEE Student Branch Counselor from Oct 2014 to Jan 2017. During this period, the branch was appreciated with Grade A from the IEEE Madras section. She was instrumental for getting (SSN-SB) I Prize in the "IEEE India Council Outstanding Student Branch Award 2015".
Published Books/Book Chapters
1. R. Seyezhai and R. Ramaprabha "Power Electronics for Renewable Energy Systems" SciTech Publications Pvt. Ltd. (ISBN: 978-81-8371-713-7), India, May 2015. (Book was included as reference book in Anna University PG regulations R-2017)
2. R. Ramaprabha and R. Seyezhai "Solid State Drives: DC and AC" SciTech Publications Pvt. Ltd. (ISBN: 978-93-85983-81-8), India, April 2019.
3. R. Hemalatha, R. Ramaprabha, and S. Radha – Chapter contribution, " Chapter 25 -Modeling of Photovoltaic Charging System for the Battery Powered Wireless Sensor Networks", in the book "Lecture Notes in Electrical Engineering 150" Springer Science Business Media New York, Springer New York Heidelberg Dordrecht, London, 2013. [ISBN:978-1-4614-3362-0; ISBN (e-book):978-1-4614-3363-7; ISSN: 1876-1100; ISSN (electronic): 1876-111]
4. R. Ramaprabha and S. Malathy, "Selection of Renewable Energy Sources for a Developing Country using Analytic Hierarchy Process" Chapter 16, pp. 359-380, Sustainability Modeling in Engineering: A Multi-Criteria Perspective, ISBN: 978-981-3276-32-1, World Scientific Publishing Company Pvt. Ltd., Singapore, 2019. https://doi.org/10.1142/11157 (https://doi.org/10.1142/ 9789813276338_0016)
5. S. Malathy and R. Ramaprabha (2020) Shade Resilient Total Cross Tied Configurations to Enhance Energy Yield of Photovoltaic Array Under Partial Shaded Conditions. In: Hemanth D., Kumar V., Malathi S., Castillo O., Patrut B. (eds) Emerging Trends in Computing and Expert Technology. COMET 2019. Lecture Notes on Data Engineering and Communications Technologies, vol 35, pp. 122–133, Springer, Cham. Doi: https://doi.org/10.1007/978-3-030-32150-5_13: Print ISBN 978-3-030-32149-9; Online ISBN 978-3-030-32150-5.
She received an international travel grant of Rs. 1.45 lakhs under DST-ITS for attending the conference in Hawaii during Dec 2017. She has completed two internally funded projects and one external funded (DST WoS-A) project. Currently, she is doing one internally funded project.
Completed/Ongoing Funded Project Details
1. Title: Efficient Energy Utilization of Solar PV Array under Partial Shadow
Funding Agency: SSN Trust
Investigators: Dr. B. L. Mathur & R. Ramaprabha
Duration: 2009 – 2012;
Amount: 9.19 lakhs
2. Title: Design and development of efficient Building integrated PV system under partial shaded conditions
Funding Agency: SSN Trust
Investigators: Dr. R. Ramaprabha and Ms. S. Malathy
Duration: 2013 – 2016;
Amount: 3.5 lakhs
3. Title: Design and Development of Flywheel based Power Conditioning System for a Renewable energy fed Micro grid
Funding Agency: Department of Science and Technology (DST) under Women
Scientists Scheme (WoS-A)
Investigators: Dr. R. Ramaprabha as Scientist Mentor for the full-time Research scholar Ms. M. Vijayalakshmi
Duration: 2014 – 2017;
Amount: 20 lakhs
4. Title: Design, control and implementation of embedded switched inductor based Z-source inverter with high boost factor for photovoltaic interface
Funding Agency: SSN Trust
Investigators: Dr. R. Ramaprabha
Duration: Jan 2019 – Jan 2021;
Amount: 2.2 lakhs
Citations
Google scholar: h-index – 20; i10 index – 28
Scopus: h-index – 12
Web of Science (Publons): h-index – 4
Research gate (RG): h-index – 17; RG score – 23.28