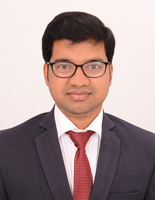 May 6, 2020
Dr Pachimatla Rajesh – Assistant Professor
chemical
Dr. Pachimatla Rajesh joined SSN institution on 1st June 2021 as Assistant Professor in the Department of Chemical Engineering.
He has completed B.Tech (2007) in Chemical Engineering from Chaitanya Bharati Institute of Technology – Hyderabad, M.Tech (2009) in Chemical Engineering with Industrial Pollution Abatement as specialization from IIT Roorkee and Ph.D. (2020) from IIT Madras – Chennai. Prior to joining IIT Madras for Ph.D., he worked at Manipal Institute of Technology – Manipal as Assistant Professor for five years.
He has four journal publications and presented various research works in five international (3 in the USA, 1 in France, and 1 in Japan) and six national conferences. He has successfully completed a DST-funded project on 'Mechanistic analysis of electrochemical reactions using Non-linear Electrochemical Impedance Spectroscopy', which is part of his Ph.D. work. He has filed an Indian patent on 'A method to identify processes, their interactions and system stability using nonlinear electrochemical impedance spectroscopy'.
Research Areas of Interest:
Non-linear electrochemical impedance spectroscopy
Electrochemistry and application of techniques like impedance spectroscopy, cyclic voltammetry, and polarization in the field of corrosion, sensors, energy storage devices like Batteries, Fuel cells, etc
Wastewater management – diagnosis and treatment