Dr. K. Hariharanath – Director
School of Management
Dr. K Hariharanath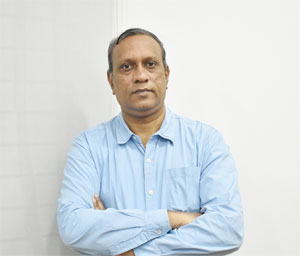 Professor
Dr. K Hariharanath
Email: hariharanathk@ssn.edu.in
Profile
Dr. K Hariharanath MBA Ph.D. has 12+ years of experience in IT product design, development, and implementation. He has experience in IT products ranging from enterprise suite of products to e-commerce products.
His doctoral work is in Business Process Management. His doctoral thesis is on 'Enterprise Application Integration' as a tool for integrating IT infrastructure in companies. This will help companies realize their business objectives with the effective deployment of Information Technology.
All along his career, he has been at the center of teaching either on a visiting professor basis or on a full time basis at ENPC Paris (International Business School set up in collaboration with IIS Infotech Limited at Cochin, Kerala), ICFAI Business School, Hyderabad and SSN School of Management, Chennai. His teaching interests are strategic management and IT Business Strategy.
His consulting area focus is working with e-commerce start-ups in building sustainable business models.
He has taught elective courses in sales & distribution management, consumer behavior and brand management for full-time MBA students of Madras University, Anna University and the post-graduate program in management offered by Indo German Chamber of Commerce, Chennai.
Educational Qualifications : MBA, PhD
Work Experience: 12 years in IT product design and development, 13 years in teaching.
Teaching Interests: Strategic Management, IT Strategy, E-commerce.
Research Areas : IT/ Business Strategy Alignment, BPM, Digital Marketing
Courses Taught: Strategic Management, Value added courses – Seminar, Business Environment based on newspaper reviews, International Business Strategy.
Scholarly Activity :
1. Laxmi Priya V and Hariharanath K, Implementing Lead Qualification Model Using ICP for SaaS Products, International Journal of Management, 11(10), 2020, pp. 81-90
2. Consultant, Blue Lotus Technologies. The nature of the consulting assignment involves
a. Providing an overall framework for 'Infrastructure as service' business model and configure the services on a web platform.
b. Assisting company to deploy a short term and long term market reach-out plan for 'just-in-time train and hire' business model.
c. Preparing a digital framework for promoting service lines of the company on a sustainable basis.
d. Technology advisory for the proposed business models.
3. Consultant, Sri Kanchi Kamakshi Amman Temple (SKKAT) maintenance process design and development. The nature of the assignment involves studying the maintenance processes at TTD and understanding the benchmark practices. The maintenance manual prepared based on this study is used as a reference guide for drawing up the processes at SKKAT. The project implementation has brought significant improvements to the processes which enabled better outcomes for temple management.
4. Consultant, SKKAT, in proposing a new alignment model for Q management which enables more number of pilgrims to draw darshan.
5. Consultant, Grocex, a new age e-commerce model with foundations on Last Mile Expert Model. This is a concept level assignment.
6. Associate consultant. Cochlear Implants market study under Prof. B. Srinivasan and assisted him in conducting the market research as part of research work being done by the Biomedical department of SSN College of Engineering.
7. Book Chapter (author): Big data in cloud computing environment for market trends
Hariharanath, K., Enterprise Management Strategies in the Era of Cloud Computing, 2015, pp. 138-154
8. Book Chapter (author): Big data in cloud computing environment for market trends
Hariharanath, K., Virtual and Augmented Reality: Concepts, Methodologies, Tools, and Applications, 2018, 1, pp. 481-499
9. Book Chapter (Reviewer): E-COMMERCE AND ITS ROLE IN THE DEVELOPMENT OF INDIA'S INDIGENOUS PRODUCT BASE, which is currently under consideration for publication in IoT, Digital Transformation, and the Future of Global Marketing, IGI Global publications 2020.