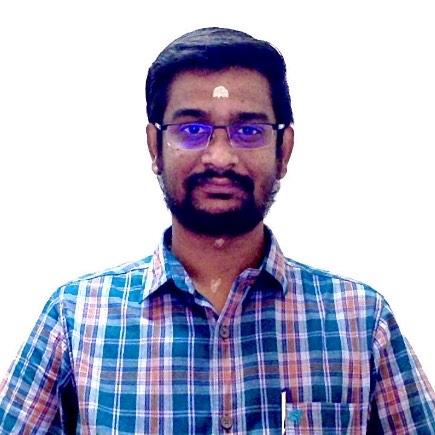 May 10, 2021
Dr. Ashwinth Janarthanan – Assistant Professor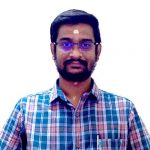 IT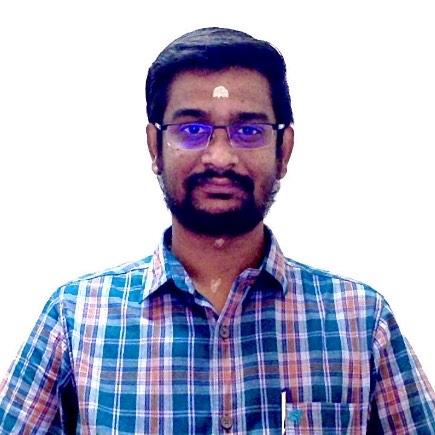 Dr. Ashwinth Janarthanan
B.E. M.Tech., Ph.D.
Assistant Professor
AREAS OF INTEREST
Meta Heuristic Intelligence, Algorithms and Analysis, Internet of Things
QUALIFICATION
Ashwinth Janarthanan received his undergraduate degree B.E. Computer Science and Engineering from Sasurie College of Engineering, Vijayamangalam in 2010.
His post graduate degree M.Tech Information Technology was from MIT Campus of Anna University in 2012.
He has completed his PhD research titled 'Meta Heuristic Approaches for Data Aggregation with Secured Routing in Wireless Sensor Networks' in theUniversity Department of Information Technology, MIT Campus, Anna University in August 2021.
EXPERIENCE
Ashwinth has teaching experience of around 9 years in institutions in Coimbatore and Chennai, dealing mainly with Data Structures and Algorithm Analysis, Optimization Techniques and Wireless & Adhoc Networks.
SUBJECTS TAUGHT
He has handled subjects like Data structures, algorithm analysis, optimization techniques, Programming in C/C++, Adhoc and Sensor Networks, computer networks, and the connected laboratory components.
PUBLICATON ABSTRACT
He has around 6 publications as international articles in Web of Science and Scopus indexing. He is also part of a patent for a remote proctoring system, published in 2020.
Since May 2021, he is with the department of Information Technology, SSN College of Engineering.
LIST OF PUBLICATIONS (U pto May 2021)
A. PATENTS
1.  SYSTEM AND METHOD FOR REMOTE PROCTORING
Title of Invention : System and Method for Remote Proctoring
Application Number : 202041026134 A
Field of Investigation : Internet of Things (IoT)
Application Date : 22/06/2020
Publication Date (U/S 11A) : 10/07/2020
Agency : Intellectual Property India, Government of India Status : PUBLISHED
B. WOS ARTICLES (SCI/SCIE)
1.  Ashwinth Janarthanan, Dhananjay Kumar, Remo Antony R, DivyaParvathe C B, "IADF Security: Insider Attack Detection using Fuzzy logic in Wireless Multimedia Sensor Networks", Soft Computing – Springer. Volume 24, Issue 18.
Pp. 13893-13902. DOI: 10.1007/S00500-020-04764-4.Impact factor 3.64.Indexed by SCI.(Annexure I – Anna University)(WoS)
2.  Ashwinth Janarthanan, Dhananjay Kumar, "Localization Based Evolutionary Routing (LOBER) For Efficient Aggregation In Wireless Multimedia Sensor Networks", Computers, Materials and Continua, Tech Science Press USA. Volume 60, Issue 3 (2019). Pp 895-912. DOI: 10.32604/cmc.2019.06805.
Impact factor 3.77. Indexed by SCIE. (Annexure I – Anna University) (WoS)
C. SCOPUS ARTICLES
3.  Book Chapter :G.Rajesh, S. Karthika, Ashwinth Janarthanan, Shanmugapriya R, X.MercilinRaajini, "An Investigation on COVID 19 Using Big Data Analytics and Arti\icial Intelligence", as chapter no 13 in the book titled "Predictive and Preventive Measures for COVID-19 Pandemic", Springer Book Series, 2020, pages 231 – 249.
4.  Ashwinth Janarthanan, Dhananjay Kumar, "Improved Aggregation using Bees Colony Optimization Routing in Wireless Multimedia Sensor Networks", Journal of Advanced Research in Dynamical and Control Systems, Volume 11, Issue 8 (2019). Pp. 1644-1651. (Scopus Indexed)
5.  G.Rajesh ,Dr.B.Vinayaga Sundaram, S.Sahana, Ashwinth.J, "Data Aggregation By Energy Ef\icient Optimal Node Positioning And Compression" International Journal Of Applied Engineering Research (IJAER) , Volume 10, Number 32 (2015) , P.23381-23386, ISSN 0973-4562 , 2015. (Annexure II – Anna University)
6.  Ashwinth. J, MercilinRaajini.X, Indumathi.P, "A Spatio-Temporal Data Aggregation Scheme for Wireless Sensor Networks", European Journal of Scienticic Research ISSN 1450-216X Vol.74 No.4 (2012), pp. 516-526 (Annexure II – Anna University)
Research Citations
| | |
| --- | --- |
| | ORCID : 0000-0002-1148-9775 |
| | Publons ResearcherID : AAE-3838-2020 |
| | Scopus ID : 57211335284 |
| | Google Scholar |
| | DBLP |