July 8, 2021
Dr. Anirudh Venkatraman Krishnan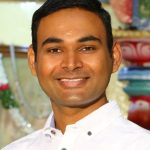 mechanical
Qualification
B.E. (Hons) Mechanical Engineering (2012), Ph.D. (2020)
Institute of Ph.D.
National University of Singapore (NUS), Singapore
Experience in SSN
Since July 2021.
Experience prior to SSN
3 years in Industry + 1 years in academics
Institutions worked previously
FMC Technologies India Pvt. Ltd. (2012 – 2015)
National University of Singapore (NUS), (2020 – 2021)
Research Interests
Erosion of Metals, Material Deformation, Structural and Thermal Simulations in ANSYS Workbench
Research Supervision till date
Research Output in SSN
Research output prior to SSN
4 publications in Journals; 3 presentations in conferences
Research Profile
https://scholar.google.com/citations?user=rWAny9UAAAAJ&hl=en
Funded Projects
Professional Activity
Professional recognition
A Simulation Driven Design Approach to Lightweight Magnesium-Based Materials While Improving/Maintaining Strength to Weight Ratios, Best Paper Award, 3rd International Conference on Current Trends in Engineering Sciences and Management (ICTESM) , Jan 6, 2020, Holiday Inn Singapore Atrium, Singapore

Recipient of President's Graduate Fellowship for carrying out research at National University of Singapore.

Administrative Activity
As a Person
Like to follow cricket and spend time walking and enjoying nature.
List Of Top Five Publications:
Amit Kumar Gupta, K. Anirudh, Swadesh Kumar Singh, Constitutive models to predict flow stress in Austenitic Stainless Steel 316 at elevated temperatures, Materials & Design, Volume 43, 2013, Pages 410-418, ISSN 0261-3069.
Penchal Reddy Matli, Anirudh Venkatraman Krishnan, Vyasaraj Manakari, Gururaj Parande, B.W. Chua, S.C.K. Wong, C.Y.H. Lim, Manoj Gupta, A new method to lightweight and improve strength to weight ratio of magnesium by creating a controlled defect, Journal of Materials Research and Technology, Volume 9, Issue 3, 2020, Pages 3664-3675, ISSN 2238-7854.
Venkatraman Krishnan, A.; Matli, P.R.; Parande, G.; Manakari, V.; Chua, B.W.; Wong, S.C.K.; Anantharajan, S.K.; Lim, C.Y.H.; Gupta, M. Drill Hole Orientation: Its Role and Importance on the Compression Response of Pure Magnesium. Appl. Sci. 2020, 10, 7047.
Regalla, Srinivasa Prakash, Krishnan Anirudh, and Suresh Kumar Reddy Narala. "Tribological performance of Zinc soft metal coatings in solid lubrication." In IOP Conference Series: Materials Science and Engineering, vol. 346, no. 1, p. 012022. IOP Publishing, 2018.
Venkatraman Krishnan, A.; Matli, P.R.; Parande, G.; Manakari, V.; Chua, B.W.; Wong, S.C.K.; Anantharajan, S.K.; Lim, C.Y.H.; Gupta, A Simulation Driven Design Approach to Lightweight Magnesium-Based Materials While Improving/Maintaining Strength to Weight Ratios, 3rd International Conference on Current Trends in Engineering Sciences and Management (ICTESM) , Jan 6, 2020, Holiday Inn Singapore Atrium, Singapore