May 4, 2020
Dr. A.K. Lakshminarayanan – Associate Professor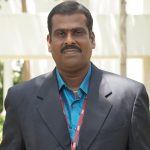 mechanical
Qualification
B.E.Mech & Prod.(2003), M.E.Manufacturing (2006), Ph.D.(2012)
Institute of Ph.D.
Annamalai University
Experience in SSN
Since June 2012 , teaching Manufacturing technology, Metallurgy , Computer Integrated Manufacturing, Metal Forming Processes,  Advances in Casting and Welding processes
Experience prior to SSN
Nil
Research Interests
Materials Joining, Advanced Metal Forming Process, Additive Manufacturing
Research Supervision till date
Completed 2 Ph.D ; Ongoing 6 ph.D
Research Output in SSN
39 publications in Journals ; 7 presentations in Conferences
Research output prior to SSN
39 publications in Journals; 16 presentations in Conferences
Research Profile
https://scholar.google.co.in/citations?user=fnnxDgUAAAAJ&hl=en
www.scopus.com/authid/detail.url?authorId=23088739900
Funded Projects
1 from DST/SERB-YS, 1 from SSN TRUST as PI and 4 from SSN TRUST as Co-PI
Professional Activity

Section Editor (Friction Welding), Welding Technology Review Journal, Society of Polish Mechanical Engineers and Technicians
Recognized Reviewer for 20 refereed International journals published by Elsevier, Springer and Taylor and Francis.
Life Member of Indian Welding Society (IWS) – Member No: L198
Collaborative Research with Professor Philippa A.S Reed, University of Southampton, UK on "Applying DIC to dissimilar welds"
Collaborative Research with Scientists from National Labs (IGCAR, DRDO, and NMRL)
Two books edited on Materials and Manufacturing by Transtech and Springer.

Professional recognition

Received "Best Teacher Award" four times for the Years 2013-2014, 2014-2015, 2015-2016 and 2016-2017 from the management of SSN institutions.
Received certification of appreciation thrice from Taylor and Francis publication, USA for "outstanding contribution of reviewer" for reviewing research articles for the period 2013 – 2014, 2014-2015 and 2015-2016
Received "Best paper award in Nonferrous Category in the National Welding Seminar organized by Indian Institute of Welding at Mumbai during December 2015
Recipient of Viswanathan Iyer Price for the Best Ph.D thesis in Manufacturing, Annamalai University during the Year 2012 – 2013.
Recipient of DST-SERC research grant of 21.3 Lakhs under Young Scientist scheme for the development of friction stir welding tools to weld stainless steel.
Recipient of UGC-Non SAP grant (Scholarship) for meritorious students during July 2008 to January 2010.
Recipient of IWS2k8 Best paper presentation award in International Welding Symposium organized by Indian Welding Society held at Delhi, 2008.
Recipient of Ramasamy Padayachi Endowment price Annamalai University for the academic performance (Holding Ist Rank) of M.E (Manufacturing Engineering) in the year 2006

Administrative Activity
Central Workshop in-charge
As a Person
Deeply interested in learning  new skills by active practice.
Funded Projects List
| | | | | |
| --- | --- | --- | --- | --- |
| S.No. | Title | Funding Agency | Project period | Value Rs.Lakhs |
| 1 | Developing friction stir tools to weld stainless steel using plasma transferred arc welding and atmospheric plasma spraying processes | DST-SERC – YS | 2010-2012 | 21.3 |
| 2 | Effect of welding technique on mechanical and metallurgical properties of AZ91D magnesium alloy | SSN TRUST | 2012-2015 | 3.00 |
| 3 | Stress corrosion cracking behavior of friction stir processed nickel aluminum bronze (As CO-PI) | SSN TRUST | 2015-2017 | 4.00 |
| 4 | Studies on the Intergranular corrosion of friction stir welded 316LN stainless steel joints (As CO-PI) | SSN TRUST | 2015-2017 | 2.00 |
| 5 | Improving corrosion resistance of rare earth containing Mg Alloy welds using micro arc oxidation (As CO-PI) | SSN TRUST | 2016-2018 | 4.20 |
| 6 | Design and fabrication of solid state extrusion setup to produce Mg Nanocomposite microtubes for biomedical stent applications (As CO-PI). | SSN TRUST | 2019-2020 | 4.20 |
Books / Book Chapters list
A.K. Lakshminarayanan, Idapalapati, Sridhar, M. Vasudevan, Advances in Materials and Metallurgy, Springer publications, pp. 1-511, 2018, ISBN 978-981-13-1780-4 https://www.springer.com/gp/book/9789811317798
N. Nallusamy, M. Suresh, S. Rajkumar and A.K. Lakshminarayanan, Alternative Energy Sources, Materials and Technologies, Applied Mechanics and Materials, Transtech Publications, Switzerland, Vol.787, pp. 1-999. ISBN: 978-3-0357-0024-https://www.scientific.net/AMM.787/book,
List of Top five Publications
Ramachandran, A.K. Lakshminarayanan, An insight into the microstructural heterogeneities formation between the weld subregions of Laser Welded Copper to Stainless steel joints Transaction of Non Ferrous Metal Society of China, 30 (3) 727-745  2020, Elsevier Impact Factor: 2.34
S Ramachandran, A.K. Lakshminarayanan, PAS Reed, JM Dulieu-Barton, Development of High-Fidelity Imaging Procedures to Establish the Local Material Behavior in Friction Stir Welded Stainless Steel Joints, Metals 9 (5), 592, 2019, MDPI, Impact Factor: 2.259
R Rajasekaran,  A.K. Lakshminarayanan, M Vasudevan,  P Vasantharaja, R-ole of welding processes on microstructure and mechanical properties of nuclear grade stainless steel joints, Part L: Journal of Materials: Design and Applications, 233(11), 2335-2351, 2019, Sage, Impact Factor: 1.568
R Saranarayanan, A.K. Lakshminarayanan, B Venkatraman, A combined full-field imaging and metallography approach to assess the local properties of gas tungsten arc welded copper–stainless steel joints, Archives of Civil and Mechanical Engineering 19 (1), 251-267, 2019, Elsevier, Impact Factor 2.846
B. Rajabharathi. A.K. Lakshminarayanan, T. Ram Prabhu, Impact of friction diffusion welding parameters on the properties of rare earth containing magnesium alloy tube-tube plate welds, Journal of Alloys and Compounds 712, 355-364, 2017, Elsevier, Impact Factor 4.175